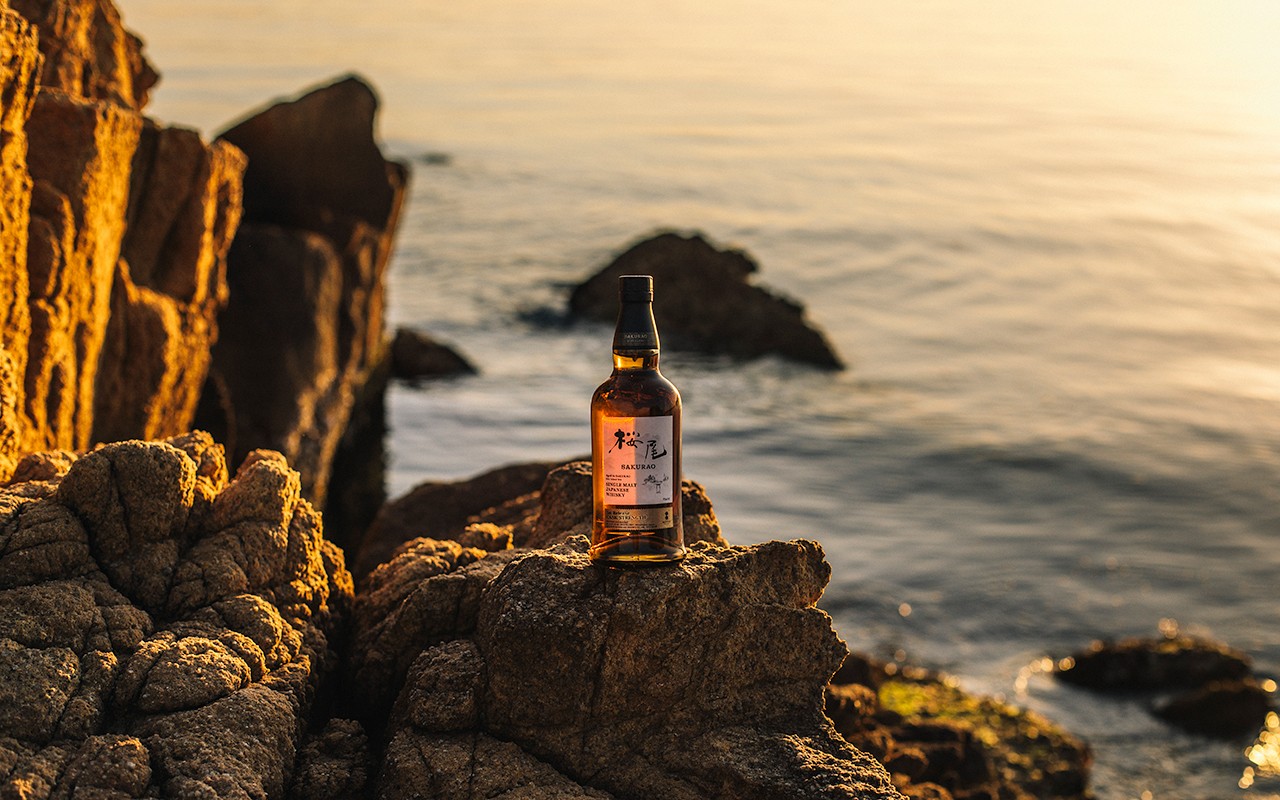 Hiroshima's Sakurao Brewery & Distillery embodies a century-long distillation legacy, blending tradition and innovation. Using local botanicals and pioneering methods, the distillery is a testament to Hiroshima's spirit of craftsmanship and its cultural essence.
Whiskey was first produced commercially in Japan 100 years ago. A century later, what was once a fringe project in Osaka has flourished into an annual production of over 45 million gallons of Japanese whiskey that's enjoyed all over the world. The vibrant town of Sakurao in Hatsukaichi, Hiroshima, is the proud home of the Sakurao Brewery & Distillery, located on the pristine shores of the Seto Inland Sea. It's here that traditional distilling techniques meet the essence of the local region to create world-class whiskeys, each standing as evidence of Hiroshima's rich heritage of craftsmanship. The distillery has the distinction of being one of the few establishments to produce both exquisite Japanese malt whiskey and grain whiskey of the highest caliber, and is also renowned for its gin offering.
Situated just across the bay from the UNESCO World Heritage Site of Itsukushima, Sakurao Distillery launched in 1918 as a sake brewery. Only two years later, in 1920—the same year Jujiro Matsuda founded Toyo Cork Kogyo, which would go on to become Mazda Motor Corporation—Sakurao Distillery obtained a whiskey distillation license, virtually unheard of at the time in Japan.
By utilizing storage warehouses in varying environments, Sakurao Distillery can craft whiskeys with distinctive characteristics.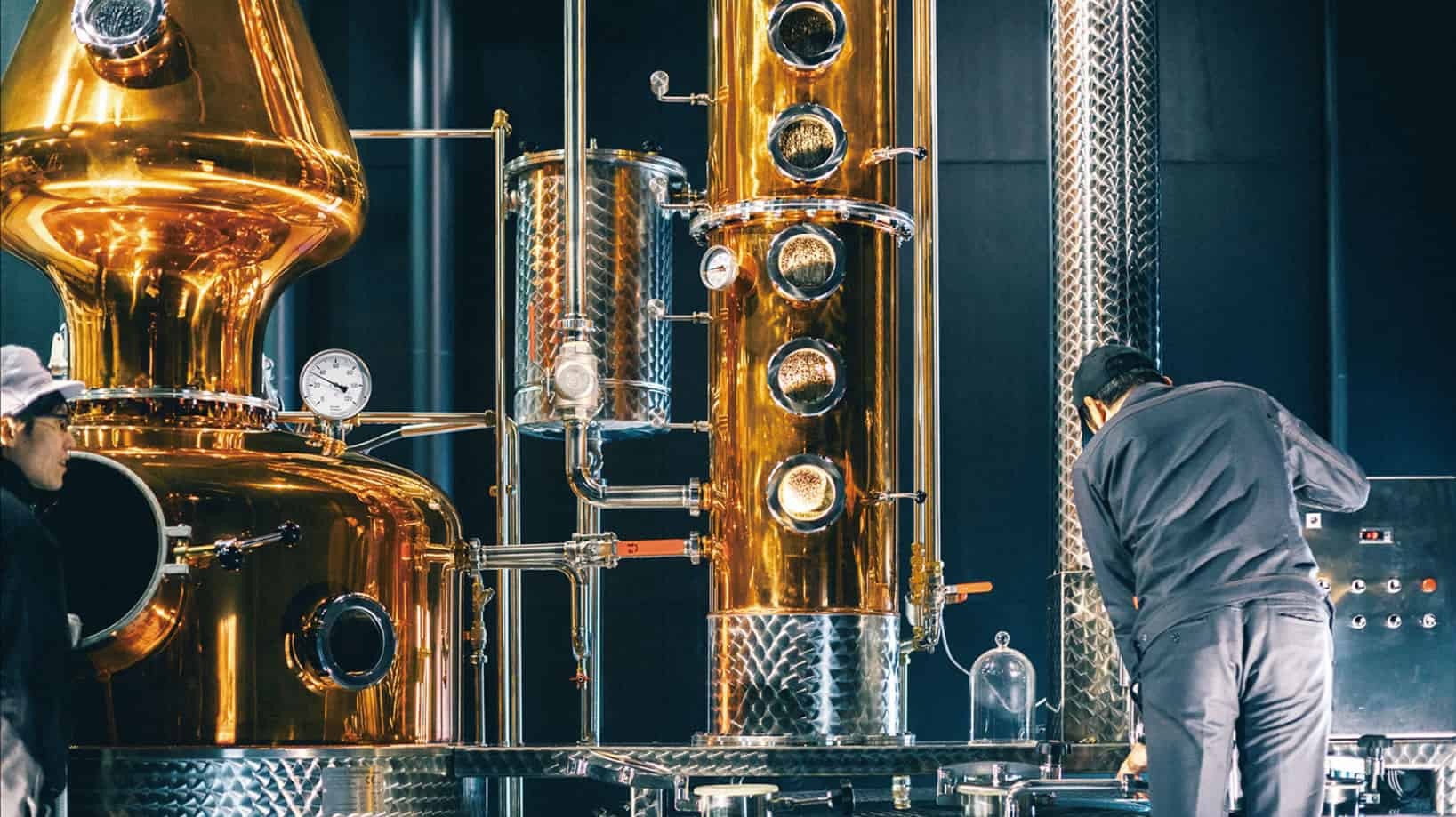 Founded in 1918 in Hiroshima, Sakurao Distillery has a legacy of over a century. Its distillation technique, passed down through generations, has gained global acclaim.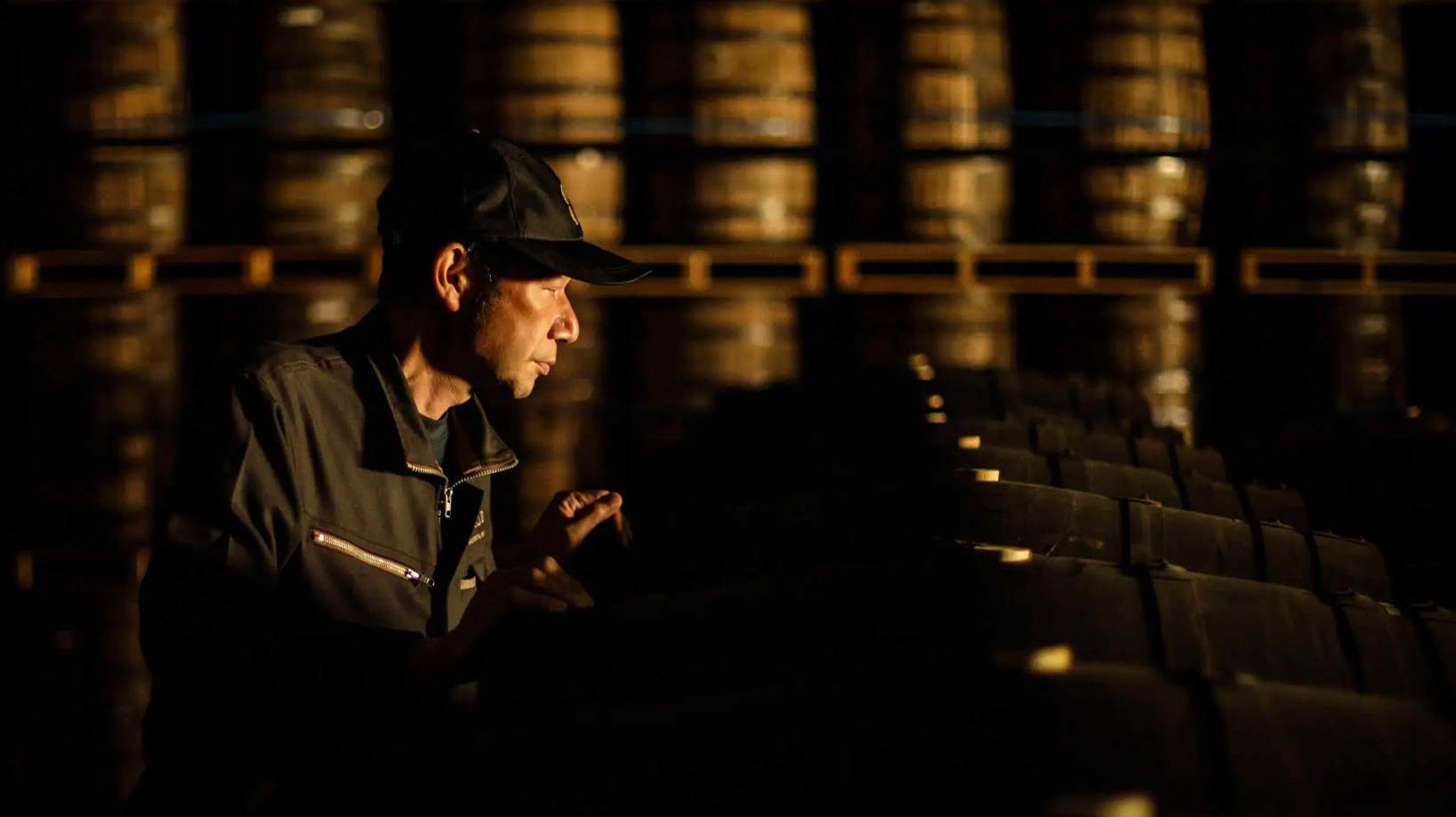 Sakurao's single malt whiskey is matured in new American oak, sherry, and bourbon barrels, before being moved into mizunara barrels made of native Japanese oak from Hokkaido.
Unlike Scotland, Japan had not yet developed its domestic industry for whiskey: there were neither maltsters, cooperages, nor bottlers. This made establishing a whiskey distillery in Japan extraordinarily difficult; yet, in Hiroshima, where difficulty presents opportunity, the city's artisans saw a welcome challenge.
This pioneering spirit has remained a significant part of company culture over the ensuing 100 years. In the 1960s—the same decade Mazda released the iconic Cosmo Sport—Sakurao Distillery released Japan's first-ever sake packaged in a paper carton. The distillery continued trailblazing for the Japanese whiskey industry with bottles such as Togouchi and Glory Extra.
Leading up to its 100th anniversary and driven by a desire for modernization, the company launched the distillery's current brands. Proving Sakurao Distillery's challenger spirit, this pivotal moment also marked the introduction of gin production, with the highly acclaimed Sakurao Original Japanese Dry Gin and Sakurao Limited Japanese Dry Gin, which have since garnered widespread acclaim. Sakurao Original is crafted using nine botanicals from Hiroshima, focusing on fresh local ingredients such as Hiroshima's famed oranges, lemons, yuzu, hinoki, and green tea. Sakurao Limited further amplifies the botanical basket with cherry blossom petals from the distillery's hometown of Hatsukaichi, and locally grown juniper berries—a rarity in Japanese gin. Oyster shells, a well-known delicacy of Hiroshima Prefecture, add a touch of salt.
As a testament to both the company's success and the continued excellence of Japanese enterprise and craftsmanship, a selection of Sakurao Distillery's gin and whiskey offerings—including Sakurao and Togouchi single malts—was served to the presidents and prime ministers who arrived in Hiroshima earlier this year for the 49th G7 Hiroshima Summit.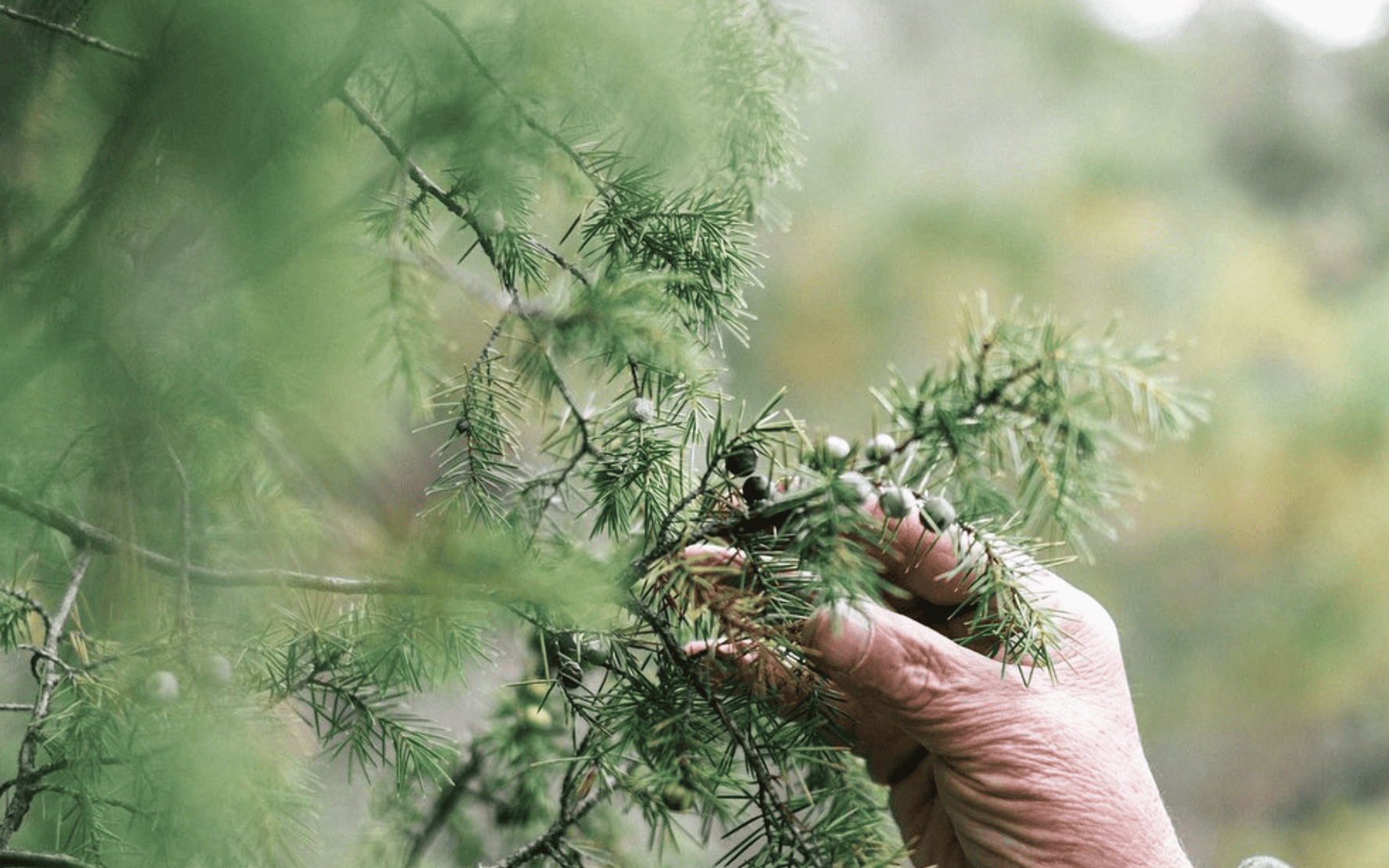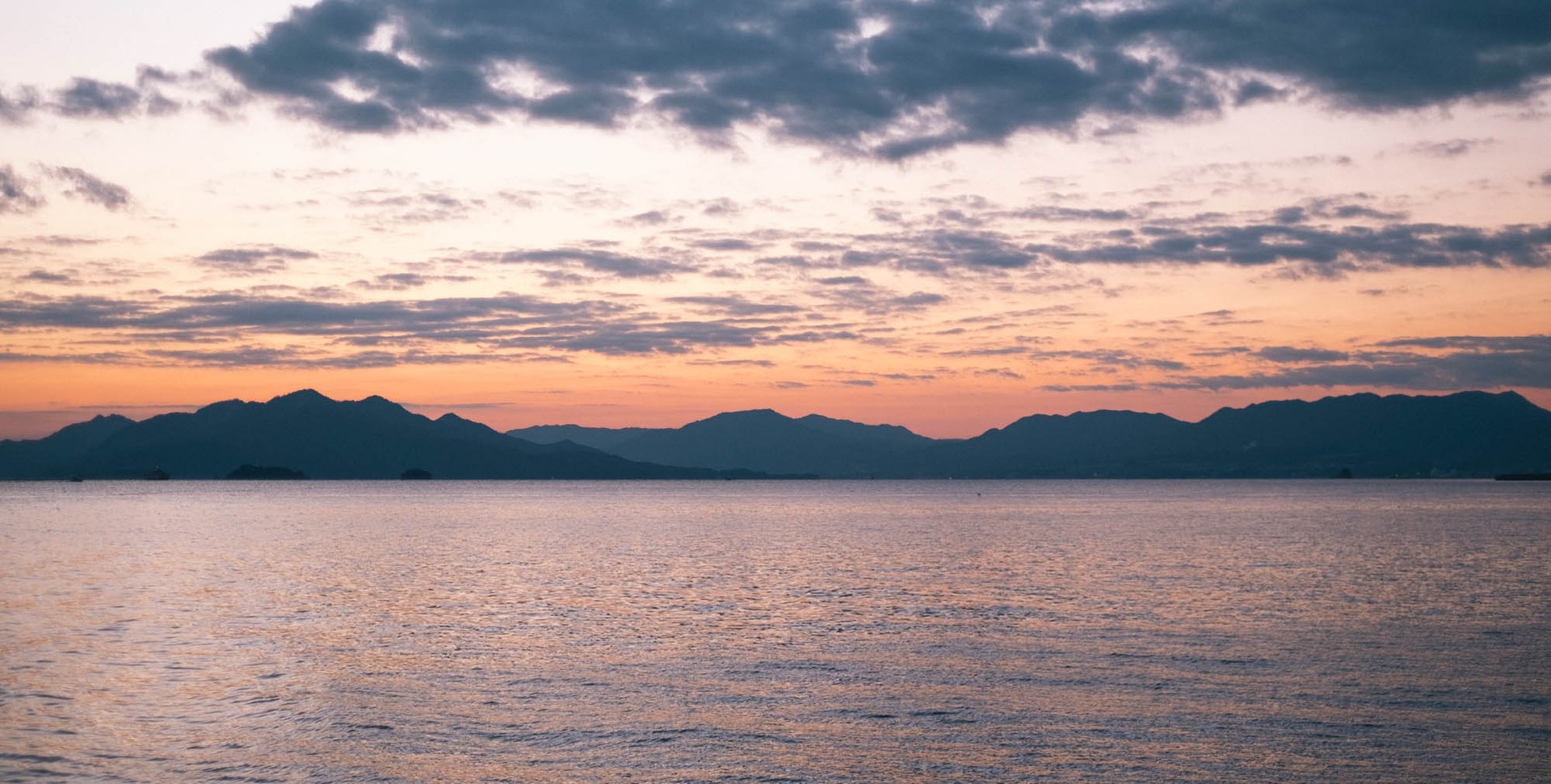 "Hiroshima's rich nature provides a variety of botanicals, particularly lemon, orange, and other citrus fruits gathered near the sea."

Sakurao Distillery
Calling on expertise obtained over its long history of blended whiskey, the distillery's single malt whiskey operation commenced in 2017. Hiroshima Prefecture's Oze River provides the distillery's water.
This fusing of traditional techniques with state-of-the-art infrastructure and a craftsman's pursuit of constant improvement is a philosophy known as monotsukuri, a Japanese term that encompasses the concept of craftsmanship. Much like Mazda, also headquartered in Hiroshima, Sakurao Distillery prides itself on meticulous attention to detail and continuous improvement in the process of creating high-quality products. Today, the distillery utilizes equipment imported from Hungary and Germany, alongside Japanese-made unblended whiskeys, vital for its delicate fermentation setup.
One of the distillery's four stills is custom-built from stainless steel and taps into the region's long history of distilled liquor, offering vacuum distillation before the distillate heads into a six-plate copper column still. Vacuum distillation lowers the air pressure inside the still, thus lowering the boiling point of the mixture, enabling the masters to capture more flavorful and aromatic components of the grains. Due to the effect of all six plates of the column still, the mouthfeel of the liquid coming off the still is creamy and soft. In Hiroshima Prefecture, this technique is only possible at Sakurao Distillery.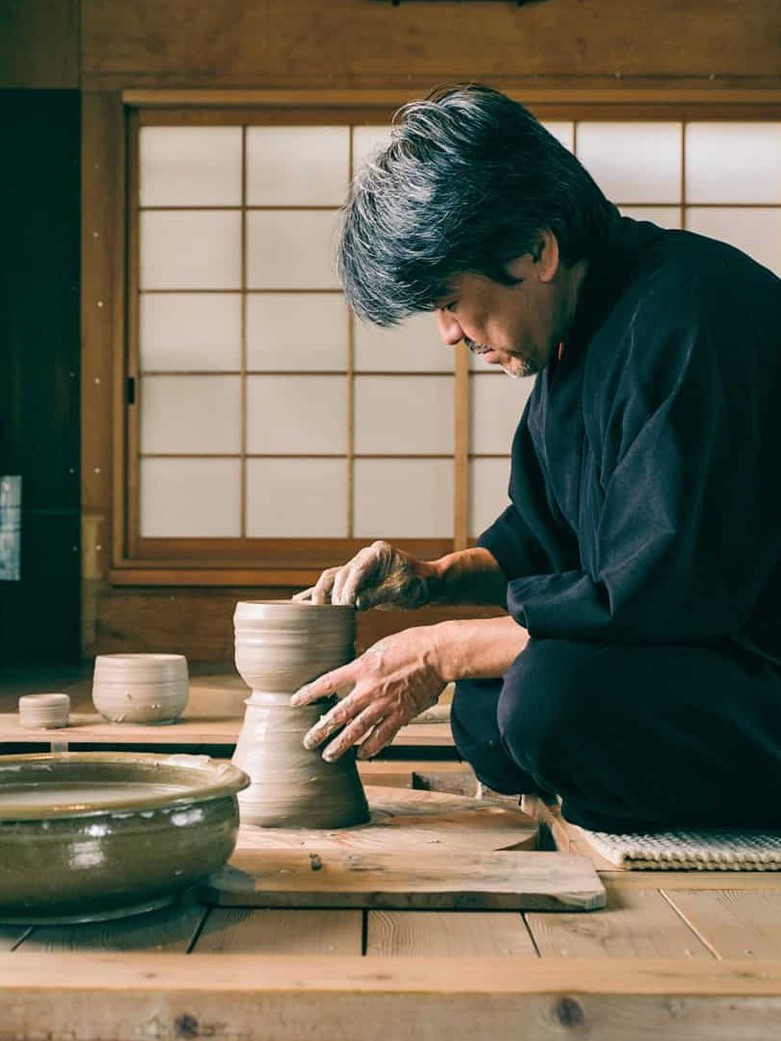 Hiroshima: the city of craftsmanship 
Amid a flourishing craft tradition around the world, Japan stands out for its depth of expertise and abundance of master-level disciplines, which are representative of the refined expressions of the human spirit over a long period of time.
Across Hiroshima's esteemed craft community, Mazda Stories meets the individuals engaged in four distinct crafts: ceramics, brush making, metal leaf artisanship, and master tool die making. Each of these artisans embodies an unwavering dedication to their craft, their skills honed through relentless pursuit and learning from past mistakes.
Click here to explore their creations, contrasting training methods, and aspirations for the future.
Sakurao Distillery's maturation setup is unique among Japanese whiskey distilleries. The location of Sakurao's warehouse, on the shore of the Seto Inland Sea, exposes casks to sea spray over the years in Hiroshima's temperate climate, adding an element of saltiness to the liquid gold contained within. But the true innovation is found at the Togouchi warehouse, situated in a 460-foot-long former rail tunnel in the hills of nearby Akiota. With capacity for 4,000 casks, the tunnel offers a maturation environment found nowhere else in the world. The high year-round humidity means that casks capture moisture dripping off the walls, leading to the liquid volume of the cask remaining the same throughout its maturation. On average a cask can lose between two and five percent of volume while it matures, known as the angel's share.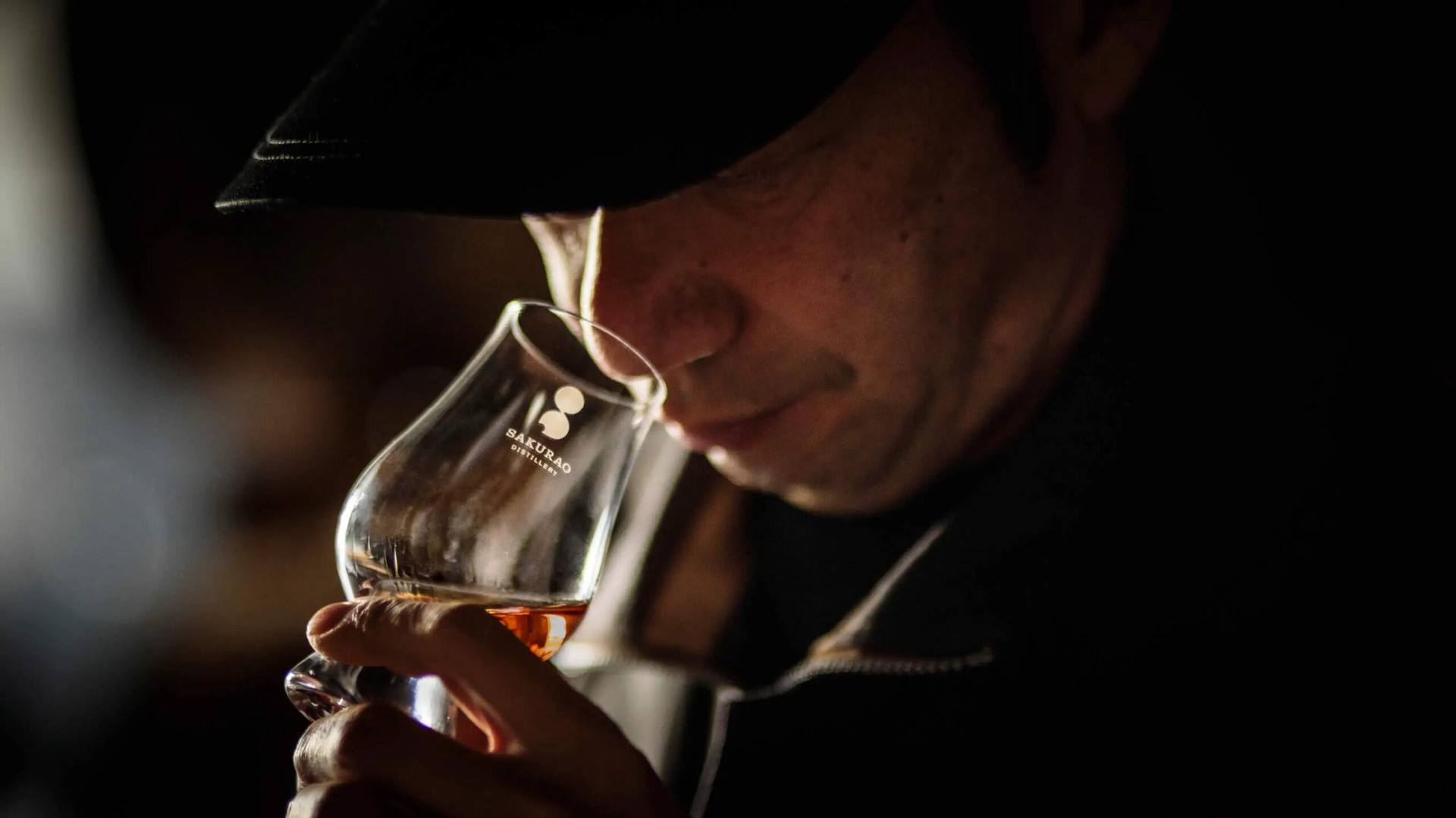 The single malt has a smoky barrel fragrance with a deep, sweet aftertaste.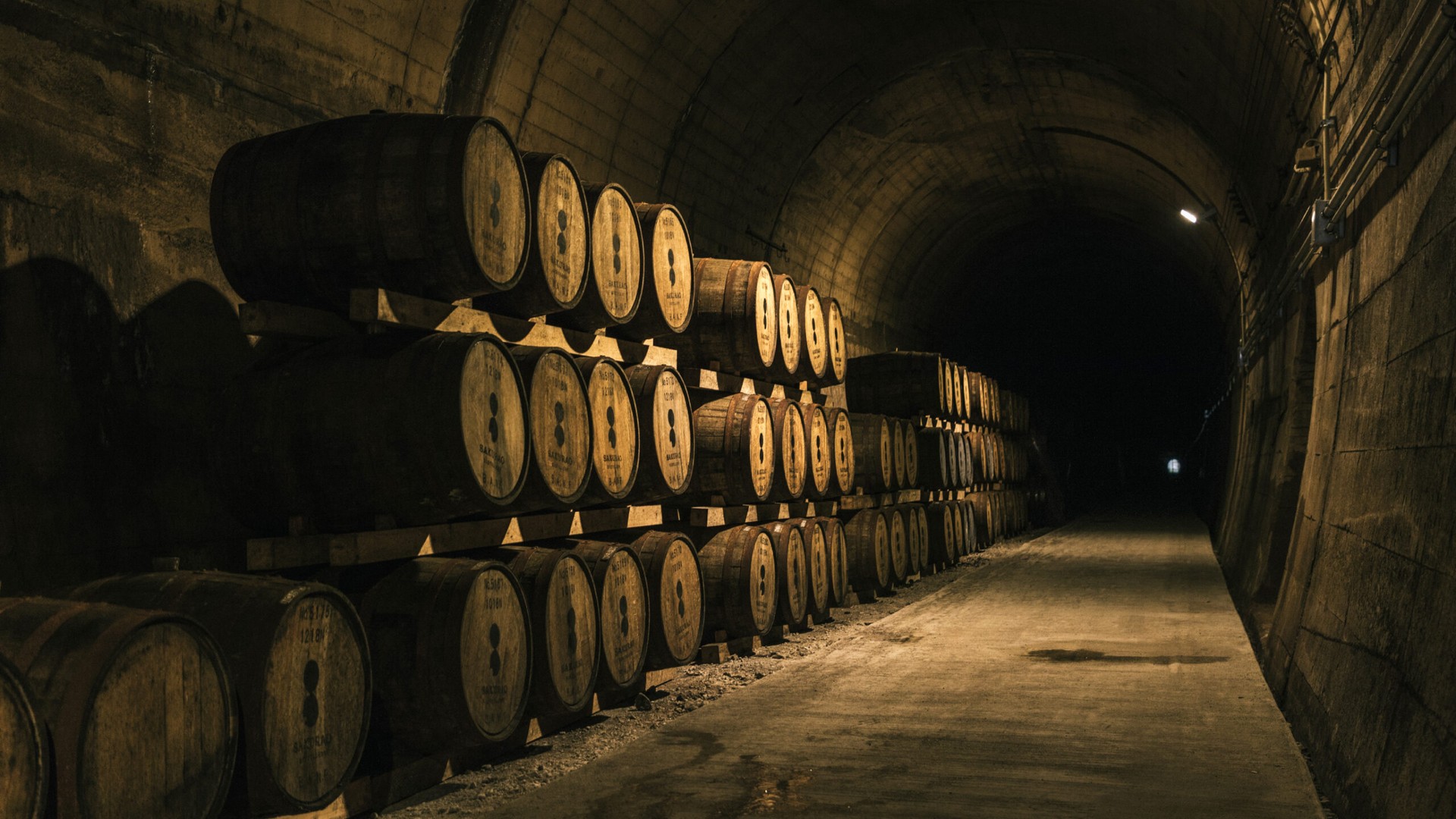 Sakurao Distillery capitalizes on a disused 460-foot-long railway tunnel—a unique maturation environment.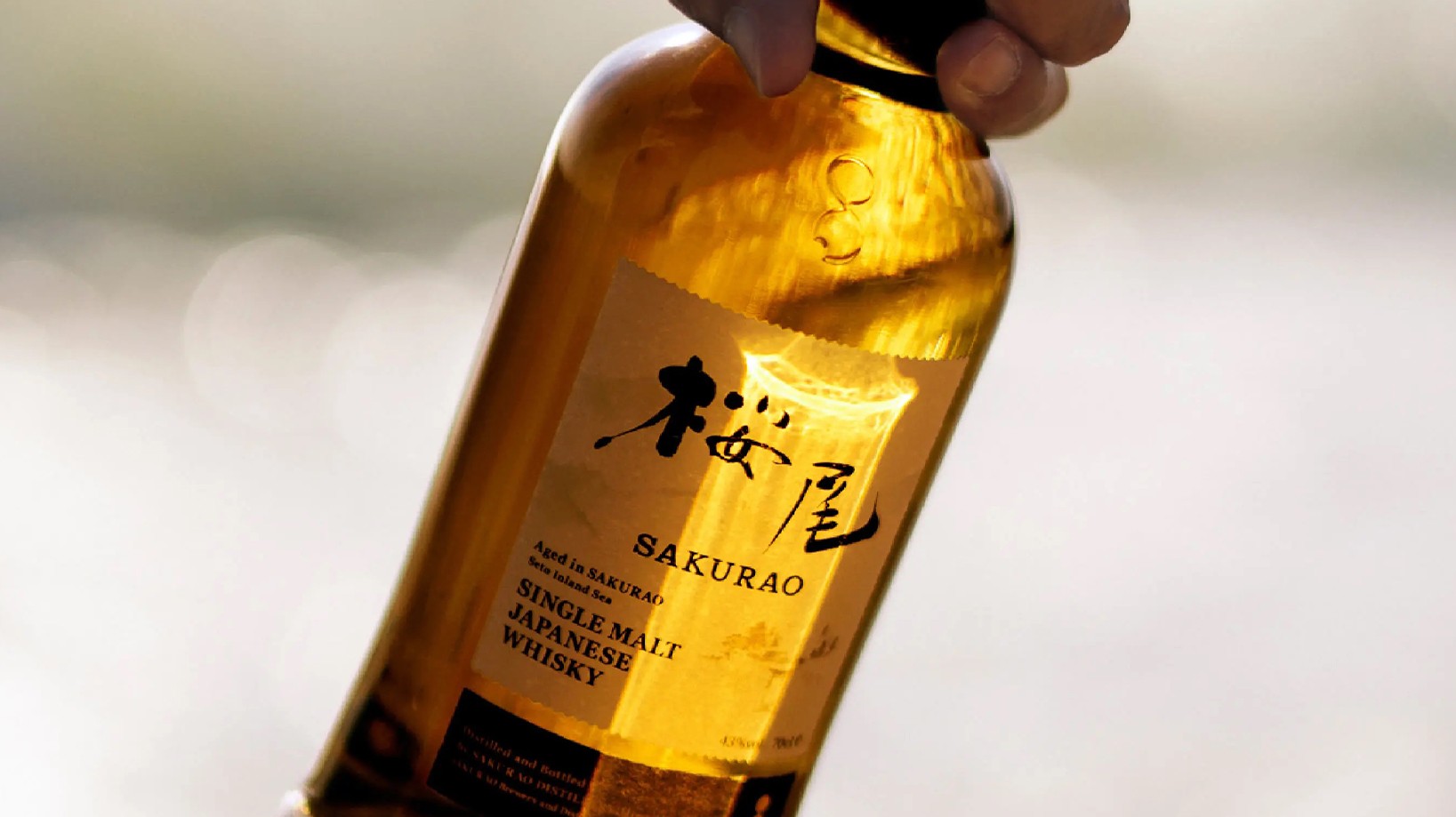 The casks that house the malt whiskey before its final blend carry a hint of the aroma of the nearby Seto Inland Sea.
"The sea and mountains are nearby. Warm breezes blow in from the sea during the summer, and cool breezes blow in from the mountains during winter. This temperature difference accelerates the maturation process."

Sakurao Distillery
With two kinds of malt, both Japanese and imported unblended whiskeys, four stills, two vastly differing maturation environments, and countless cask types, Sakurao Distillery can create a wide range of Japanese whiskeys. It is then down to the honed senses of the distillery's master blenders to formulate whiskeys that end up in bars and homes across the world. With this much variety, the company's initial single malt release was not one bottle, but three: Sakurao Single Malt Japanese Whiskey, aged entirely at the distillery; Togouchi Single Malt Japanese Whiskey, matured solely in the Togouchi warehouse; and Sakurao Sherry Cask Stillman's Selection Single Malt Japanese Whiskey, highlighting sherry cask-aged whiskey. From September, the company will also make grain whiskey in house.
Not dissimilar to Mazda, Sakurao Distillery exemplifies the seamless fusion of time-honored traditions and contemporary innovation. It is the unwavering dedication and relentless endeavors of the distillery's craftspeople that not only uphold the city's rich legacy of craftsmanship but also strengthen its enduring spirit.
---
Words Liam McNulty / Images Sakurao Brewery & Distillery and Eric Micotto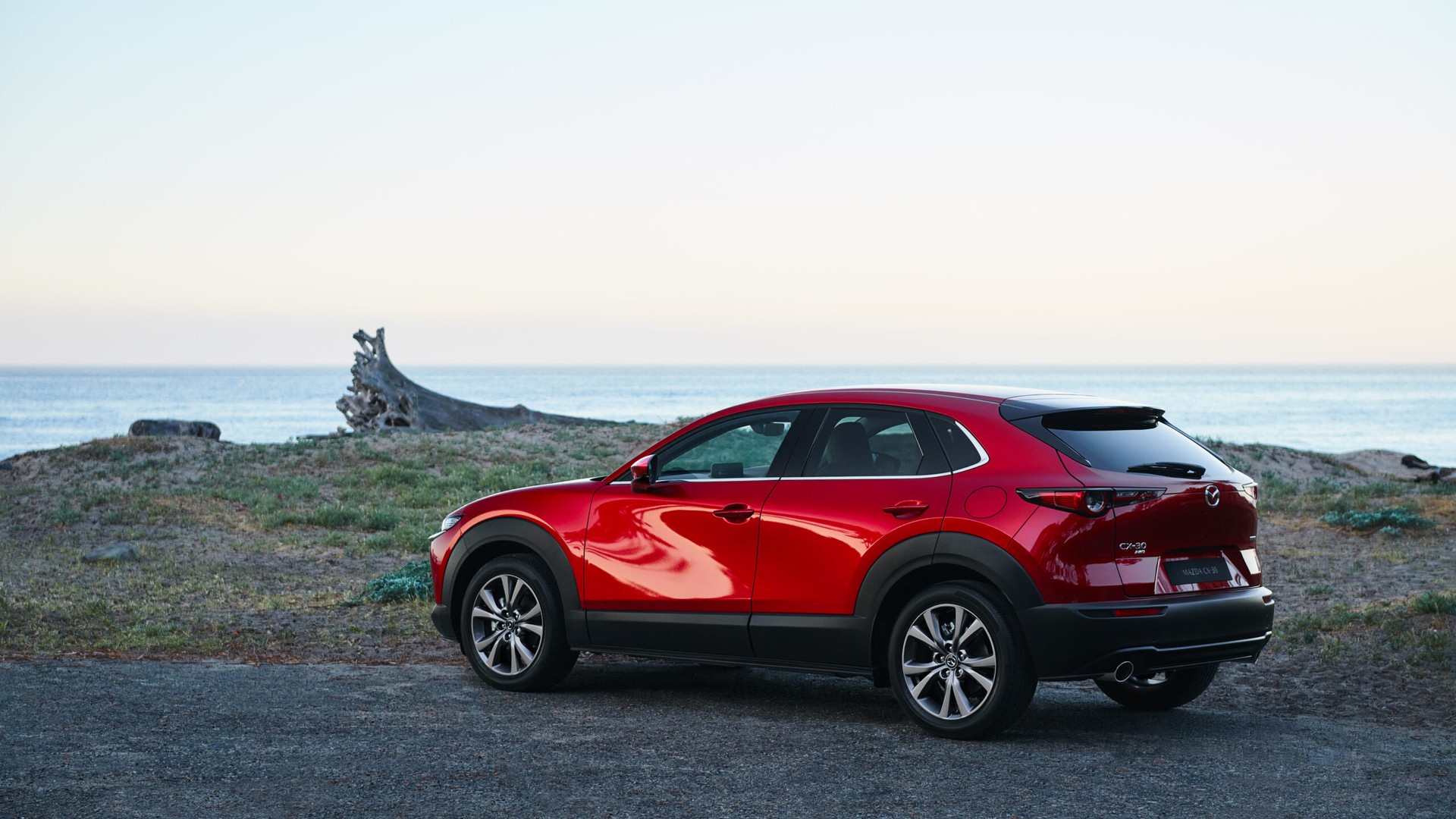 find out more
Made in Hiroshima, enjoyed worldwide