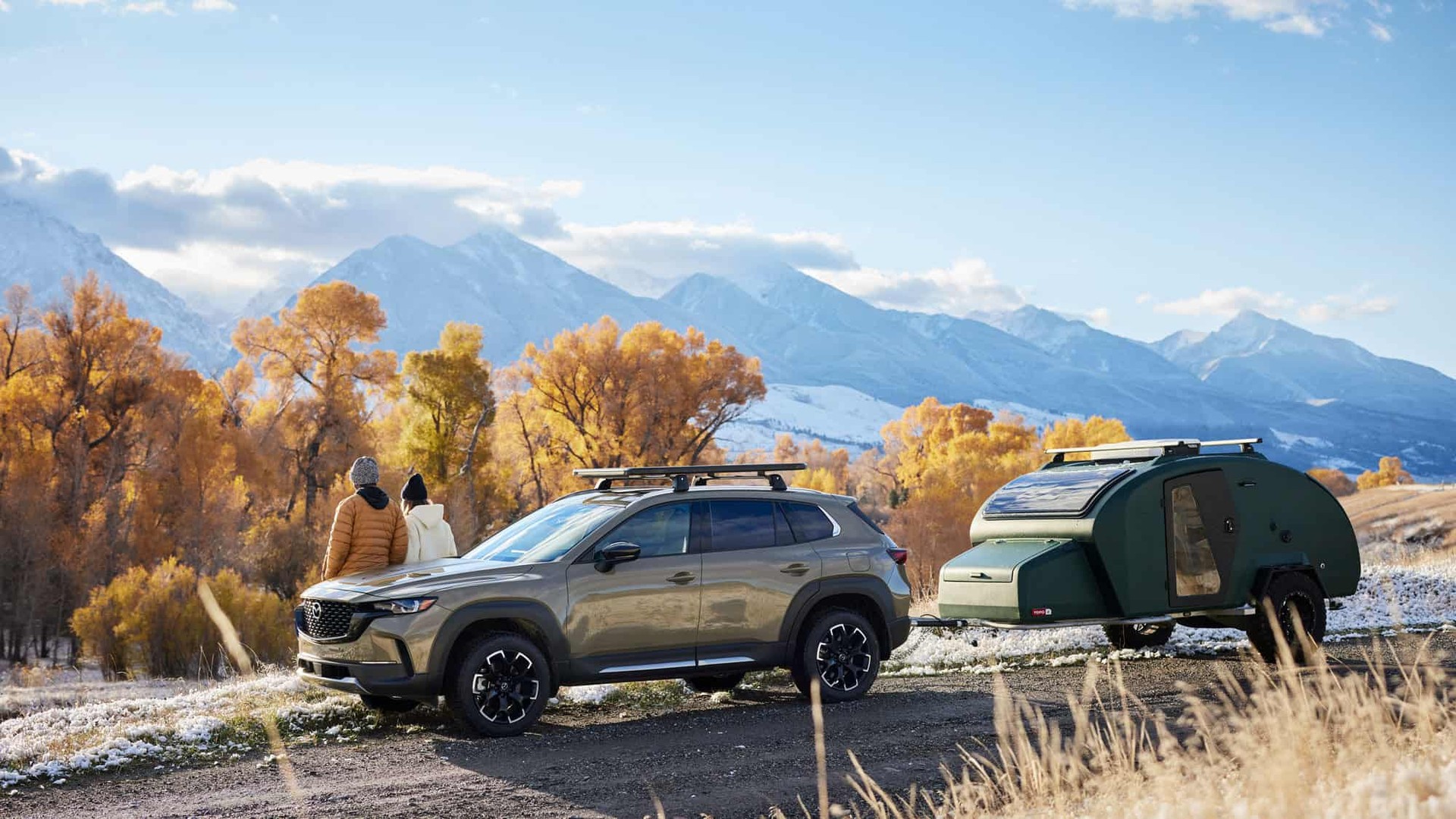 Step into the Montana wilderness with adventurers Ryan Hudson and Claire Donskey, as they explore Big Sky Country in a Mazda CX‑50.
Resting at an overlook in Montana's Hyalite Canyon, Ryan Hudson is reflecting on the first time he ever saw snow. He was 14 years old, and a local nonprofit organization had taken him and a group of other young teenagers to go snowboarding. "A fire went off inside of me when I first went out into the mountains and stood on top of a peak," he says, picturing it in his mind's eye. "I looked out along the valley, and I saw just how big the world around me really was."
"I wanted to have a relationship with the outdoors."
Twenty years on, the outdoors now plays a sizable role in Ryan's life. In fact, the 34-year-old outdoor ambassador has had his entire adulthood molded around it. "Before then, outdoor activities hadn't really been on my radar. That was what really changed my life and what hooked me into wanting to be in the outdoors as much as possible," he explains, as he sets his next route into the onboard navigation system of the Mazda CX‑50, eager for the adventures that await. "I wanted to have a relationship with the outdoors and to cultivate it throughout the rest of my life."
Almost 500 miles away from home, he's sharing this adventure in Big Sky Country, as Montana's fondly known, with his partner, Claire. Much like Ryan, the outdoors offers her a means of escape from their busy lives in Salt Lake City, where Claire works in health care. "Nature means everything to me. It reminds me to slow down and take a step away from my busy life that I get easily caught up in," she says. "It keeps me grounded and looking at the bigger picture."
For the couple, it's this relationship with the outdoors that has brought them north to Montana from Salt Lake City and, behind the wheel of a Mazda CX‑50 that's towing a stylish Escapod TOPO2 teardrop camper, it's become more accessible than ever.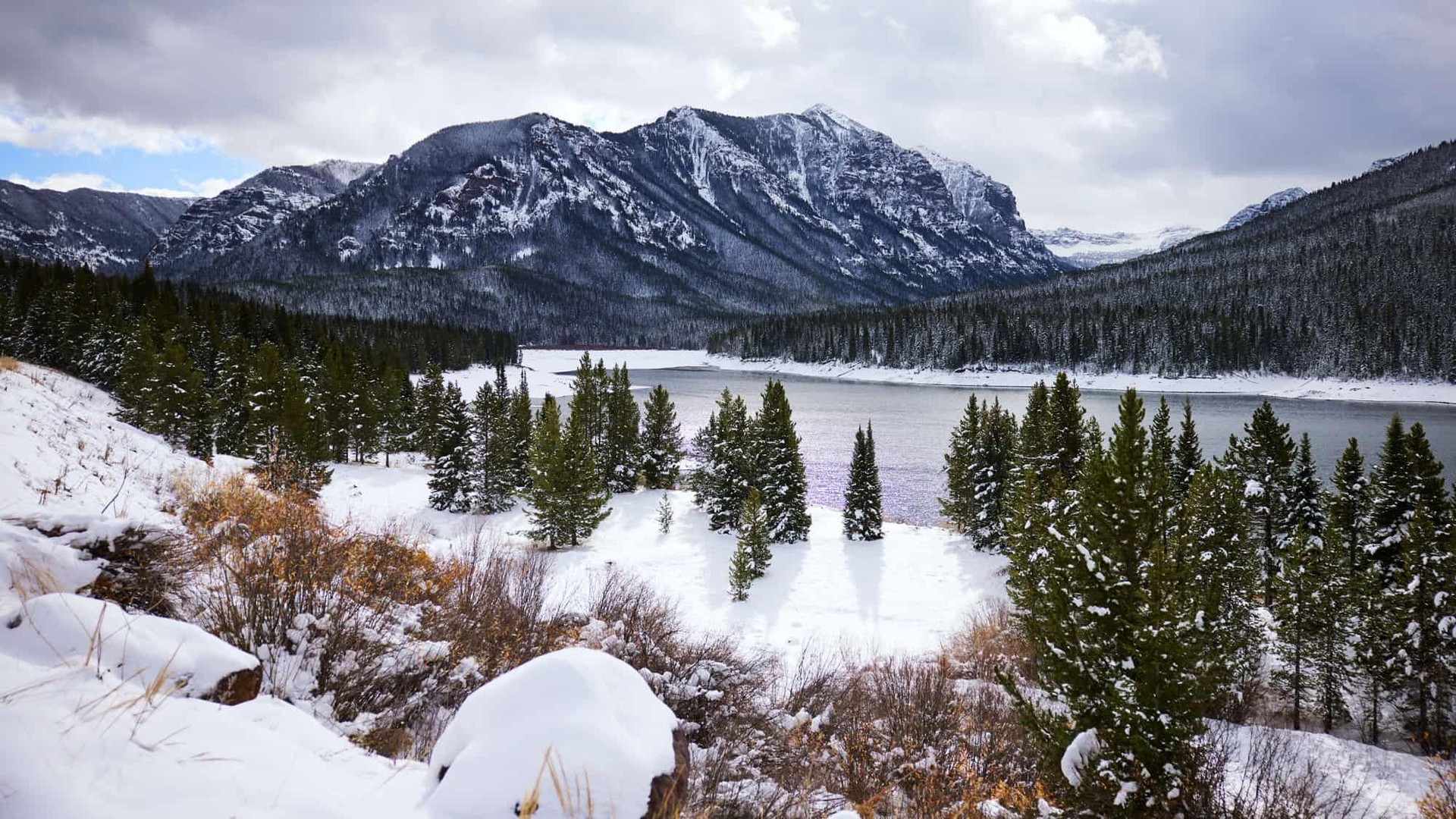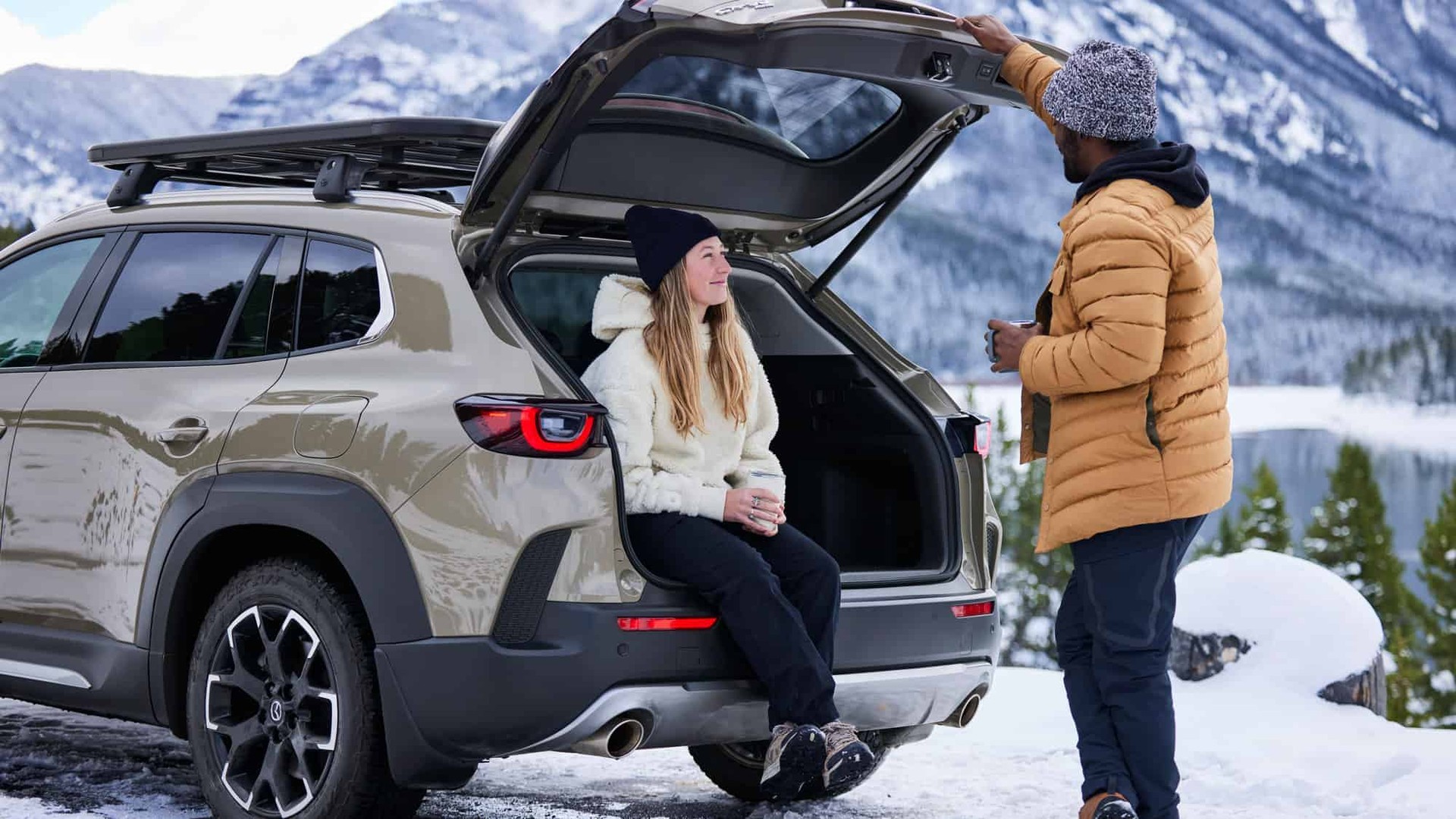 Ryan and Claire have established a base camp at Hood Creek Campground, watched over by the snowcapped Palisade Mountain range. While it's a few degrees above freezing, towing the Escapod behind the CX‑50 means they can explore the local area of Emigrant and set their sights further toward the snowy mountaintops near DePuy Ranch and the colorful trees and rushing water of Yellowstone River, ready to put the versatile CX‑50 to the test.
As Ryan enthuses, it's the perfect territory for the rugged-and-ready CX‑50. With greater space for their sports equipment, four driving modes, and smart i‑Activ AWD, the crossover SUV makes light work of undulating roads and varied terrain that is synonymous with Montana.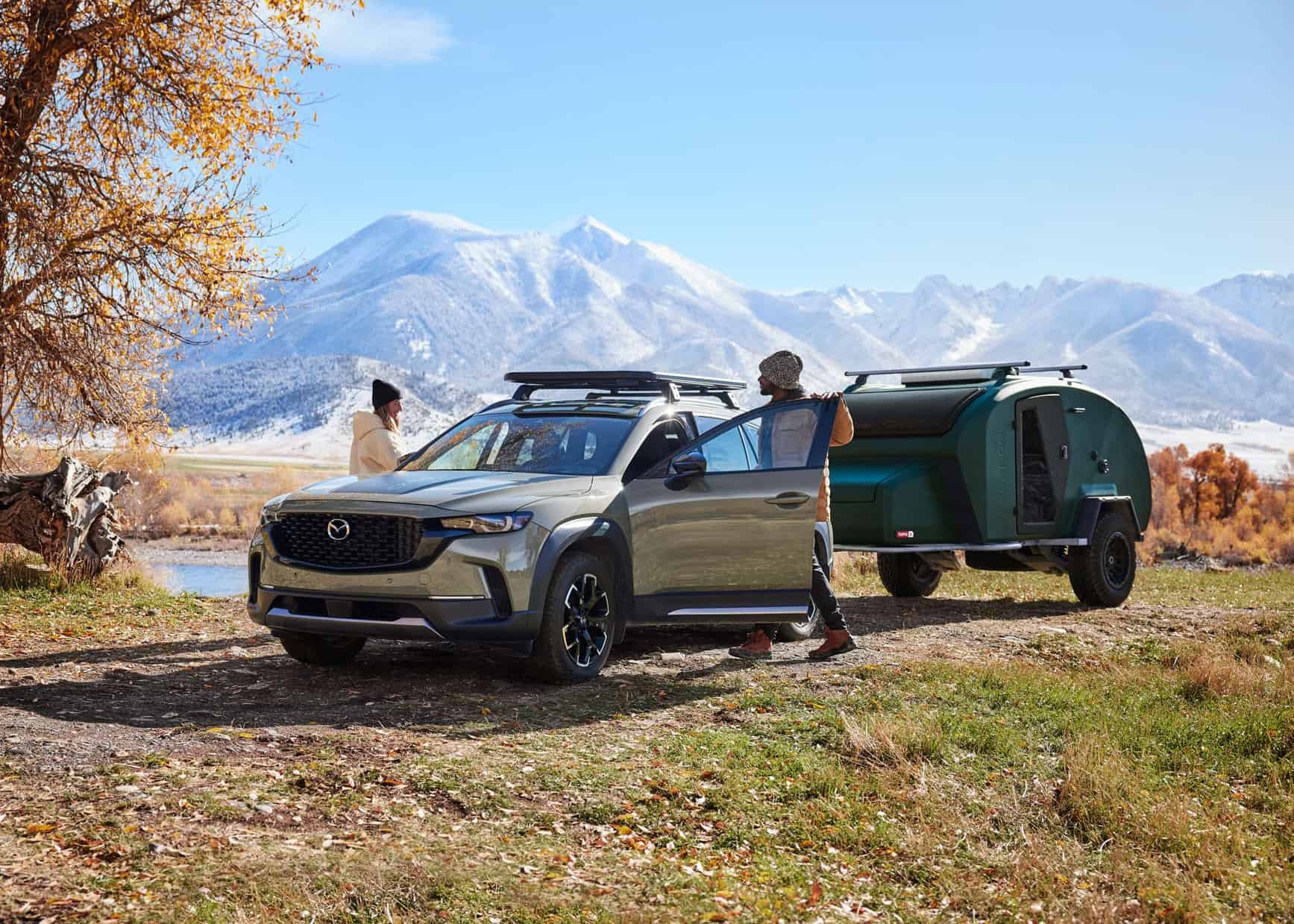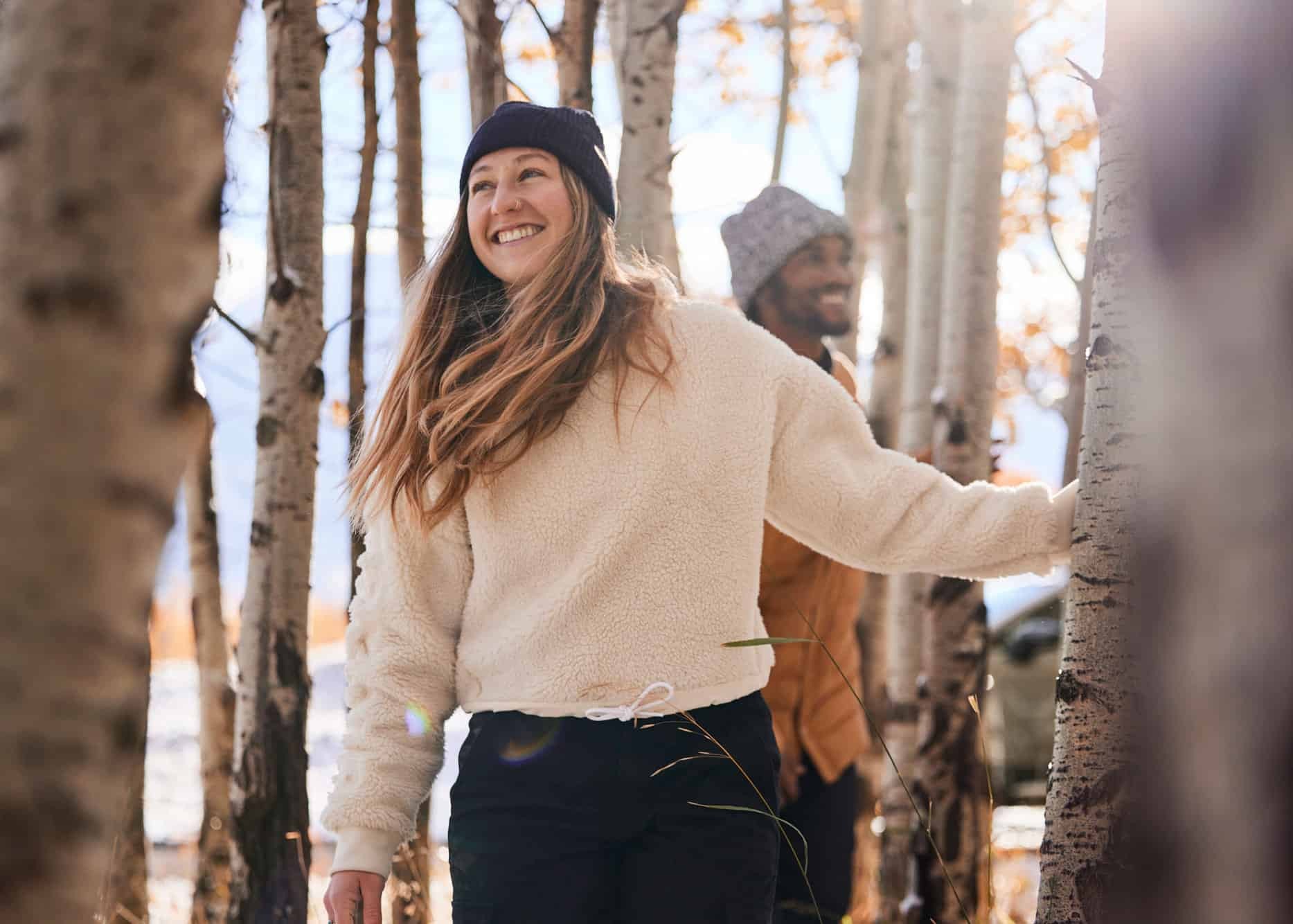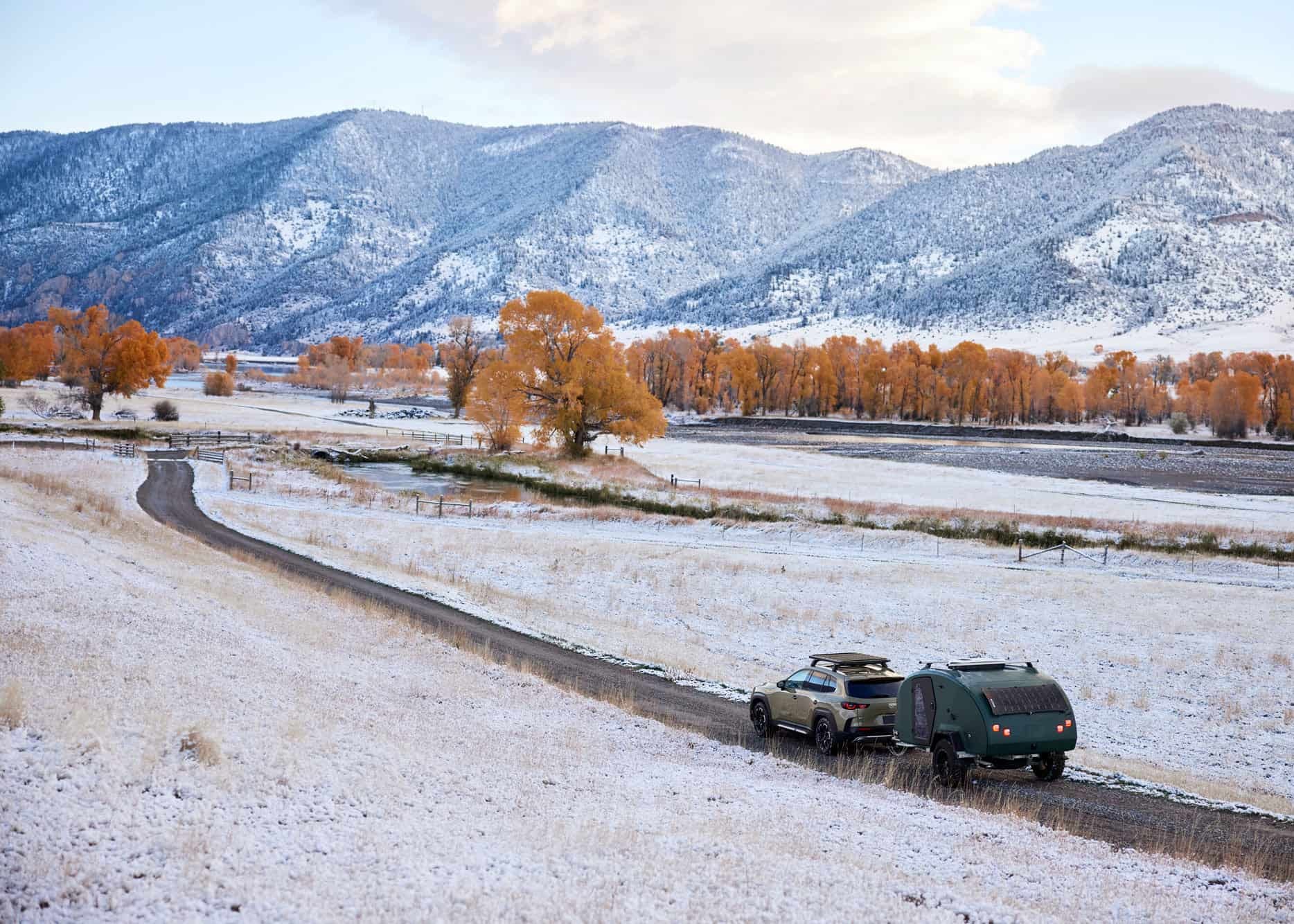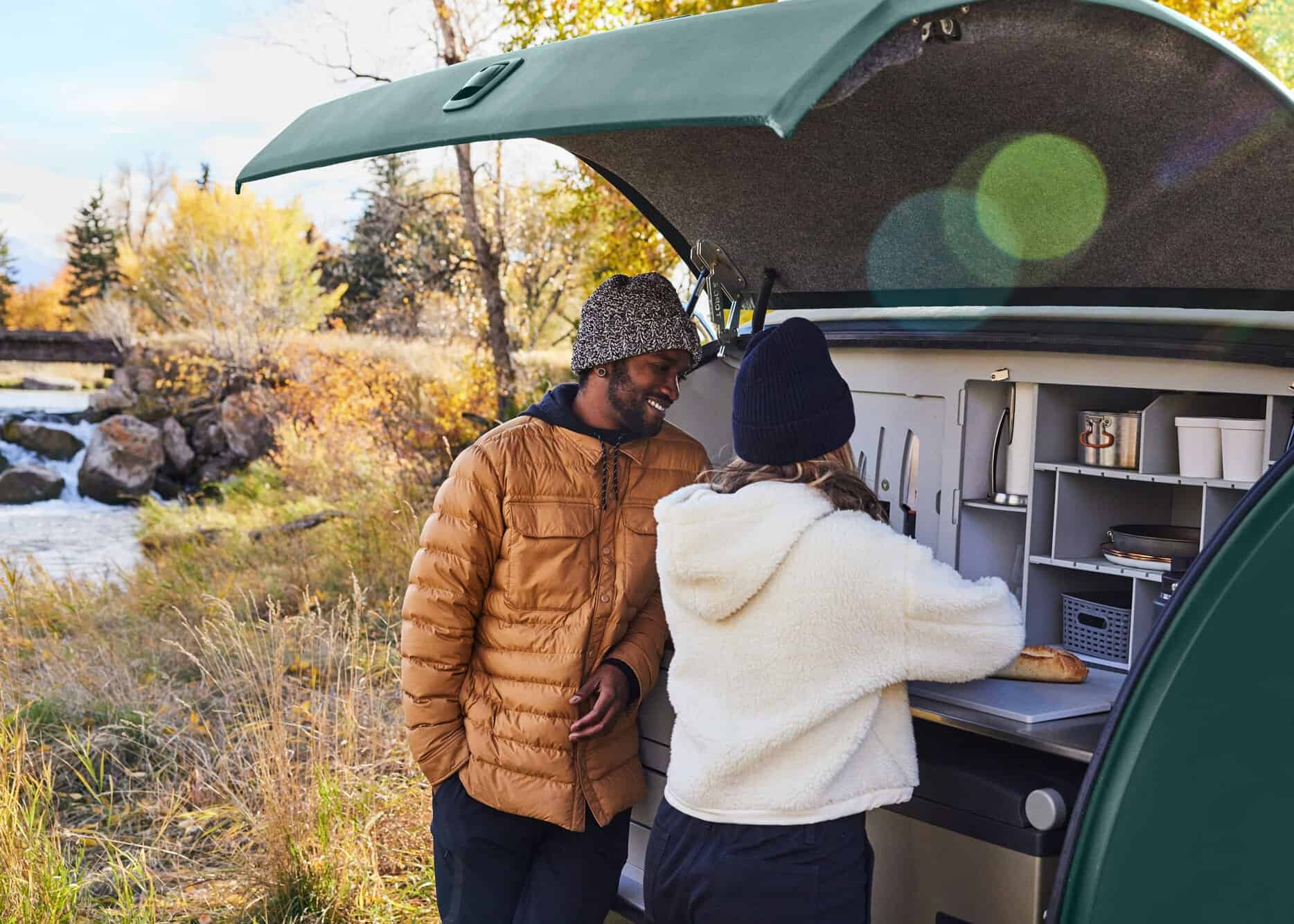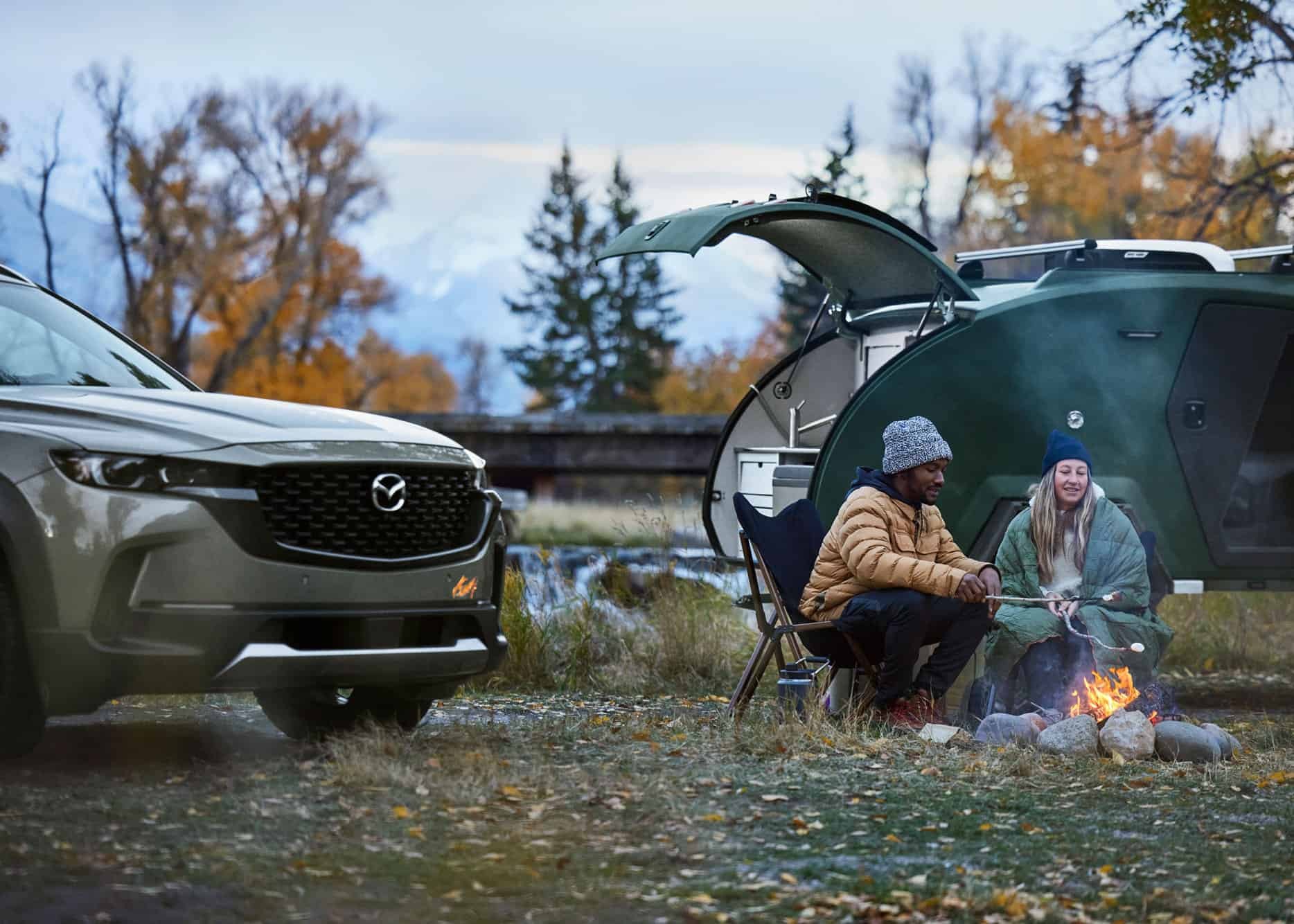 The CX‑50's towing mode is especially useful, Ryan says, as the intuitive handling and low-end torque make for a stress-free drive. "It handles really well on tarmac and off-road," says Ryan as he drives, captivated both by the scenery and how easily the CX‑50's i‑Activ AWD responds to varying conditions including turns, weather, and hill climbs. "Knowing that the CX‑50 is making the adjustment on the fly as I get into more uneven terrain is really impressive," he continues. "For me to easily take this vehicle into the places I go to, it's brilliant."
"For me to easily take this vehicle into the places I go to, it's brilliant."
Despite escaping the bustle of the metropolis, Ryan and Claire remain in good company—this time, however, with Montana's resident wildlife. Mule deer, white-tailed deer, and longhorn cows make regular appearances across their trip; with elk and bald eagles also spotted by these experienced adventurers. "There's plenty of room for wildlife to roam free, and you really see a lot of them," says Ryan, who has previously gone ice-climbing and snowboarding in Montana's back country. "To see wild animals just existing in their own space and being allowed to be free is amazing."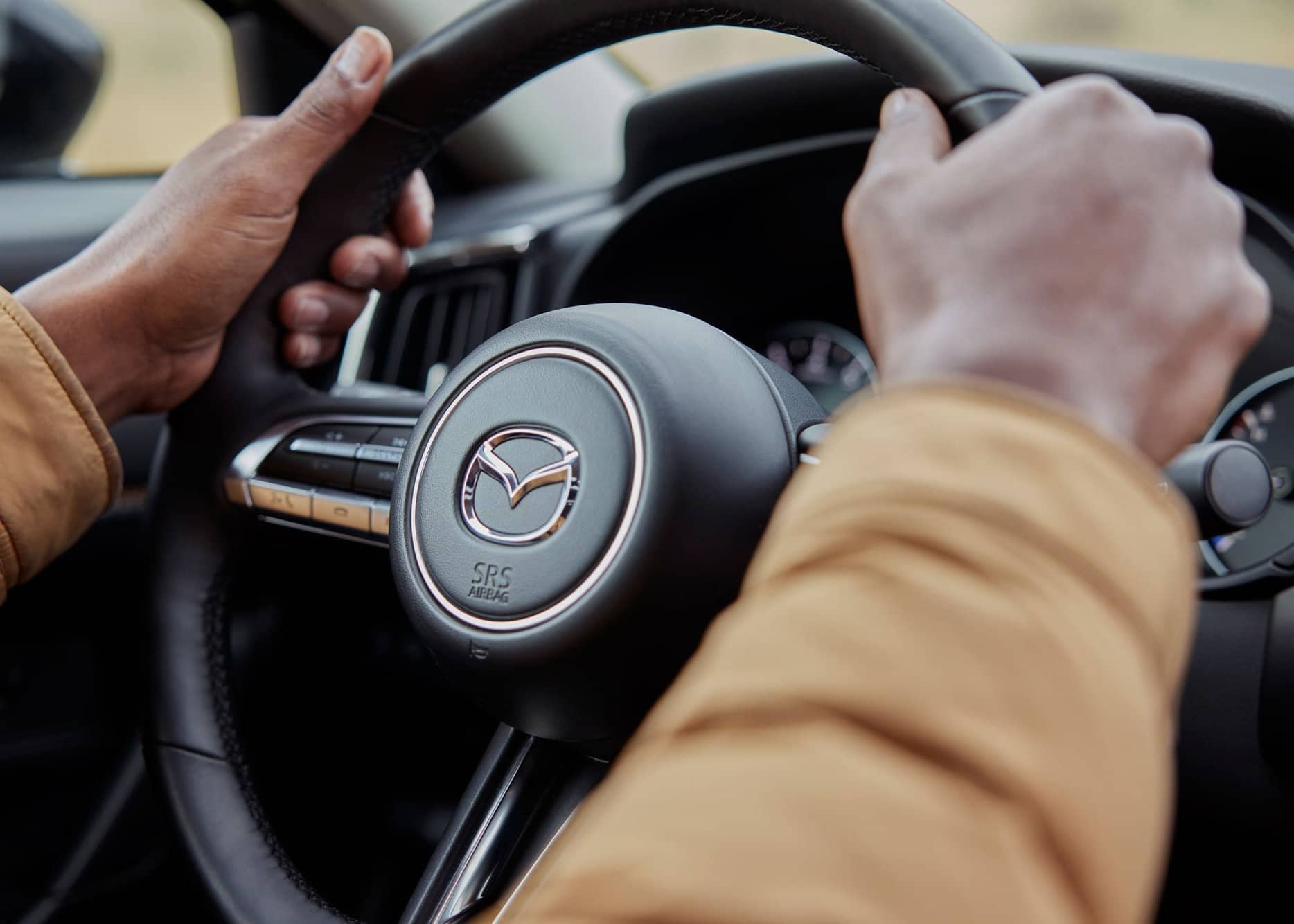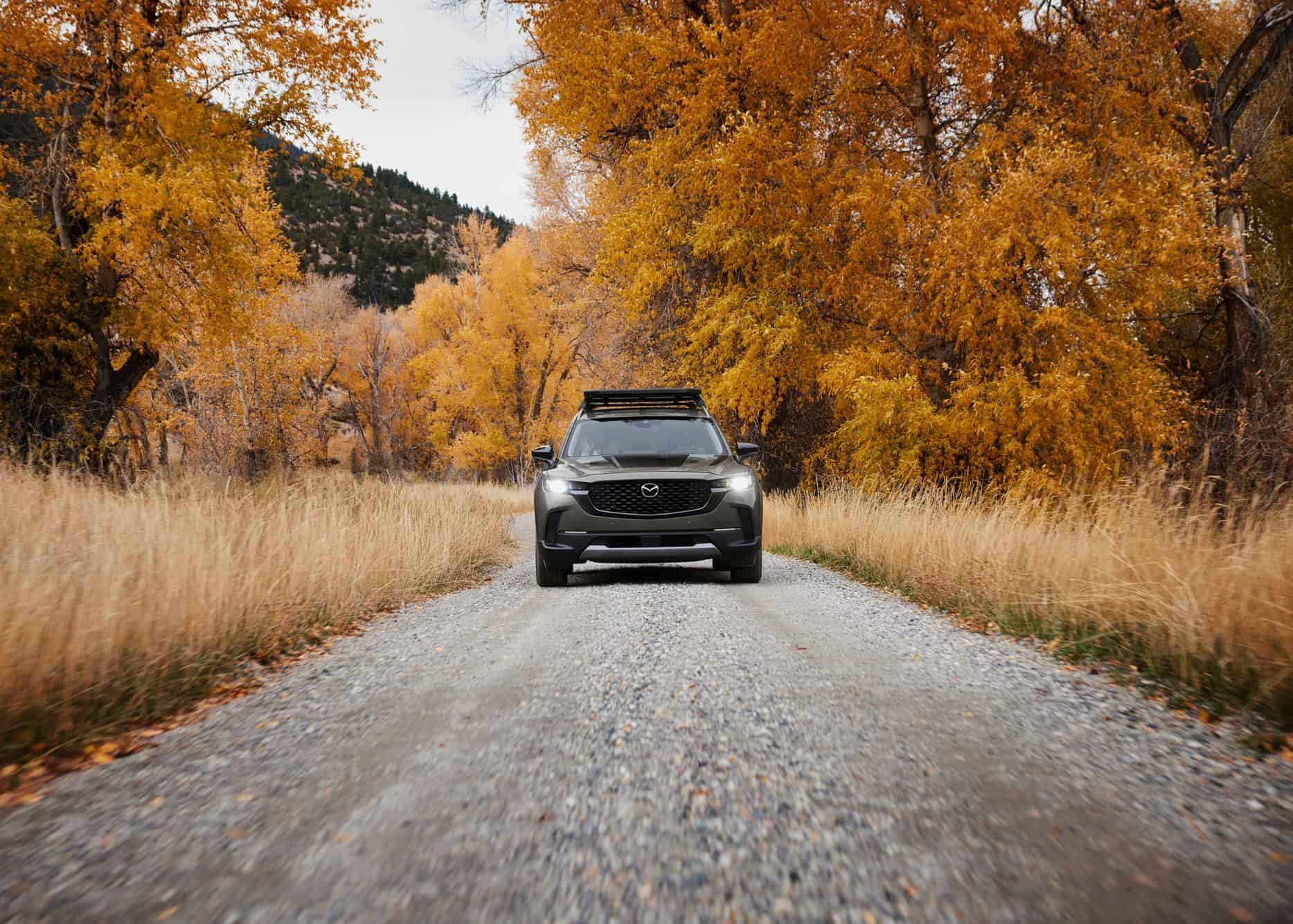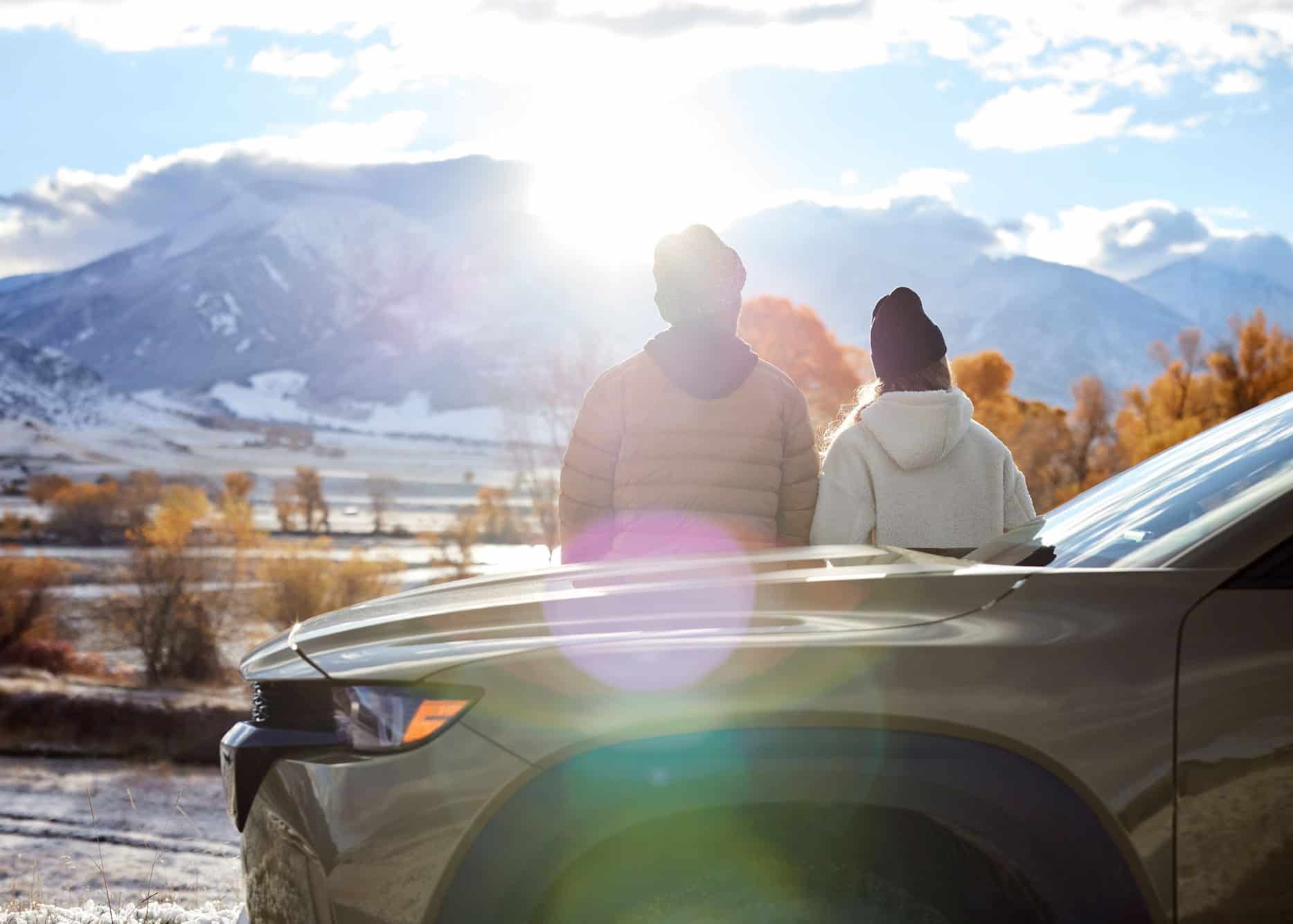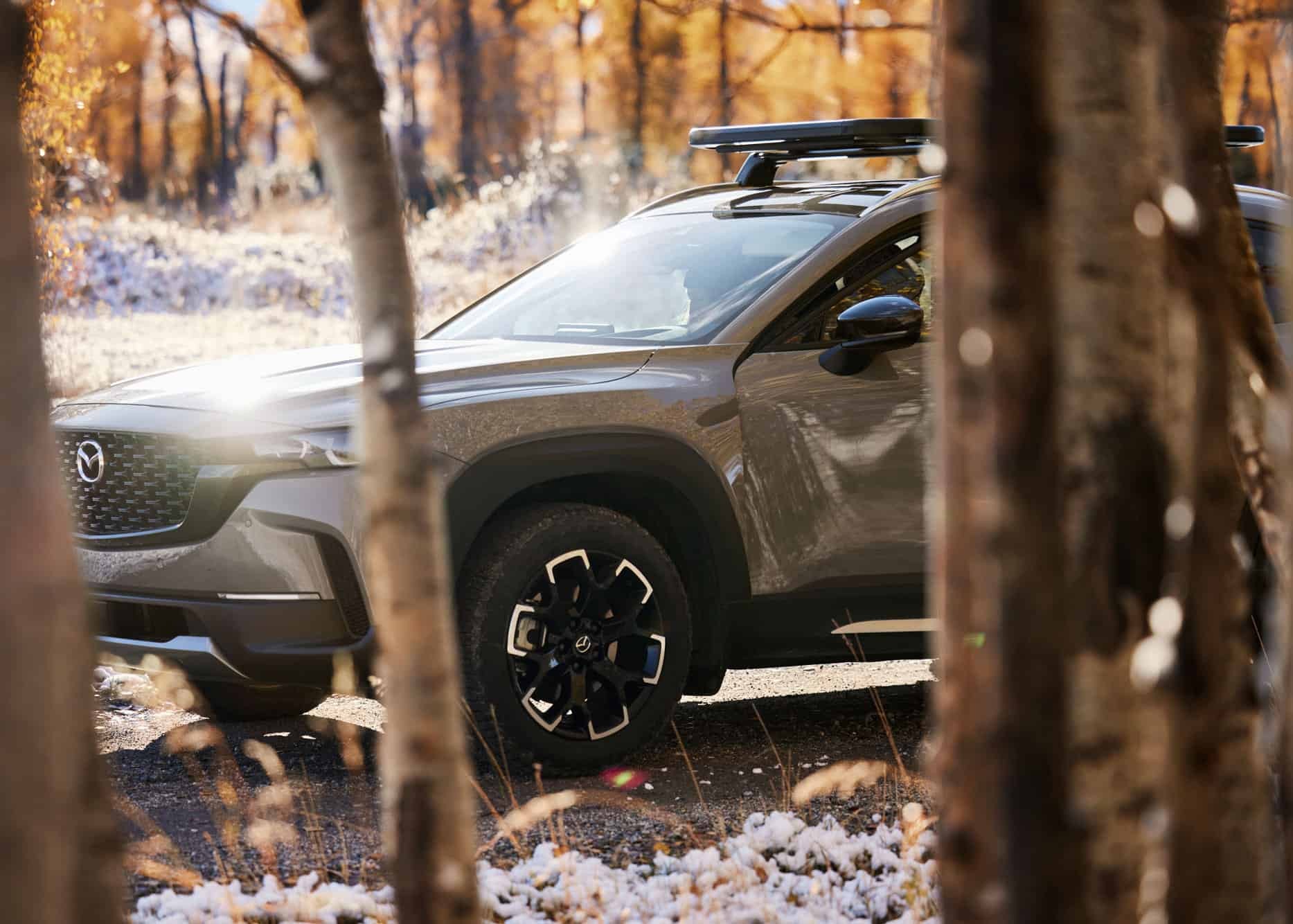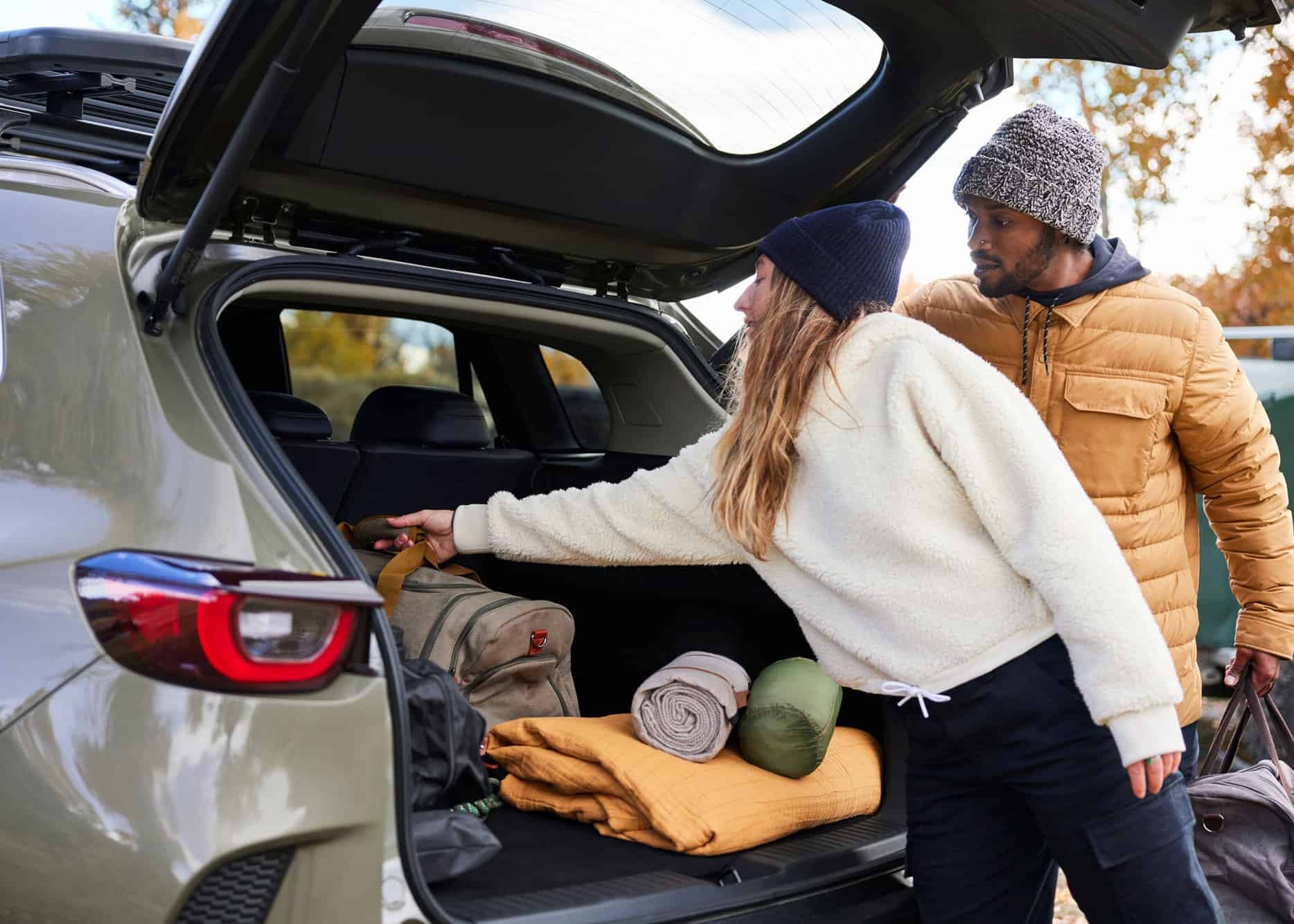 Like these locals, Ryan and Claire are all about being present in their own surroundings. The CX‑50's interior, he explains, feels "safe and secure," and, when partnered with the Escapod TOPO2 teardrop camper, makes an ideal base for an evening of s'mores and stargazing once the sun sets. "When you lay down, you can see the stars at night through the Escapod's stargazer window," says Claire as the CX‑50 safely brings them both back to camp. "Nothing is as important when I'm in and around nature than connecting with it." A hearty dinner of tortilla soup, baguettes, and a glass or two of local whiskey and ginger beer fuels them up ahead of another day's exploration.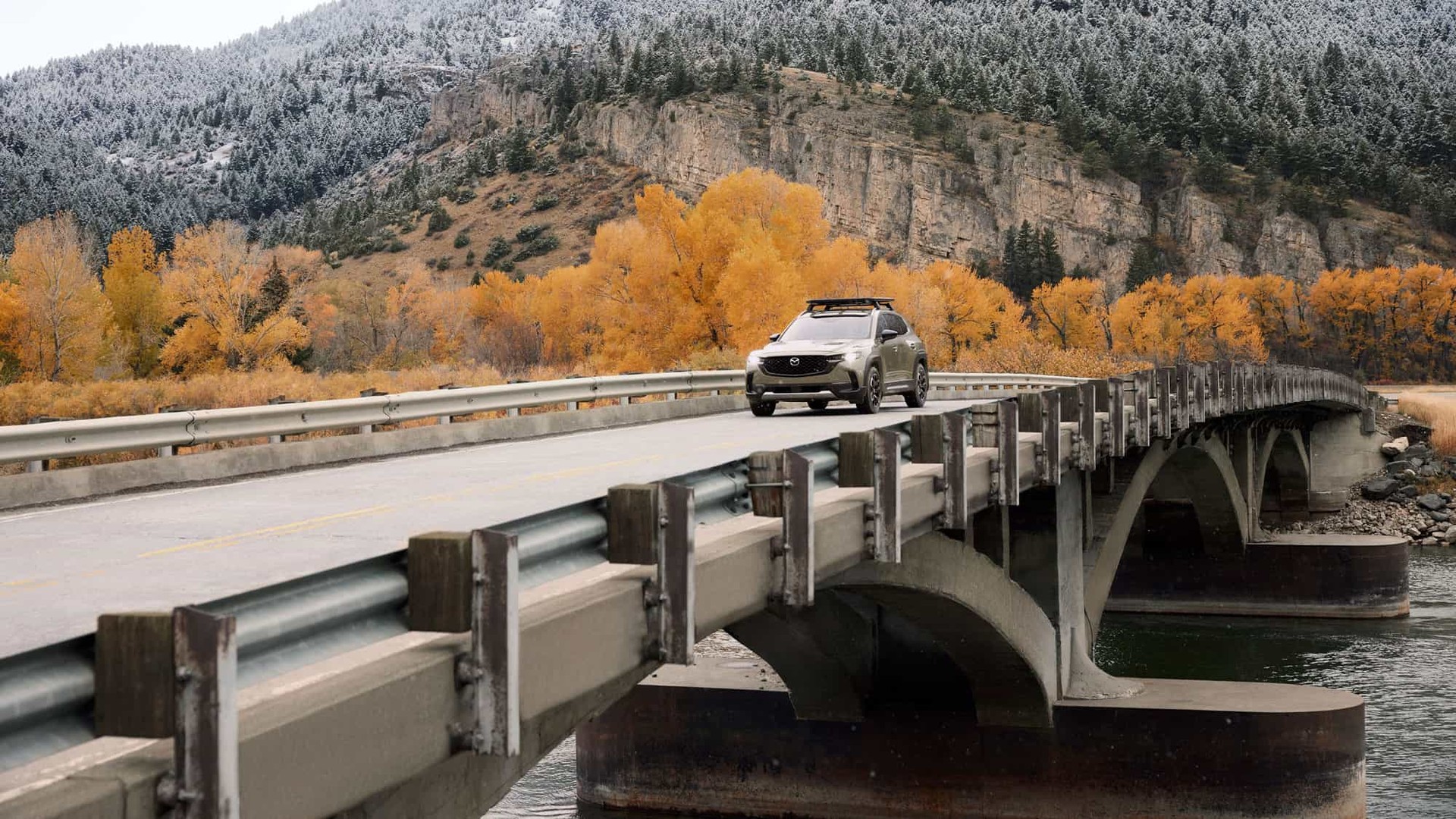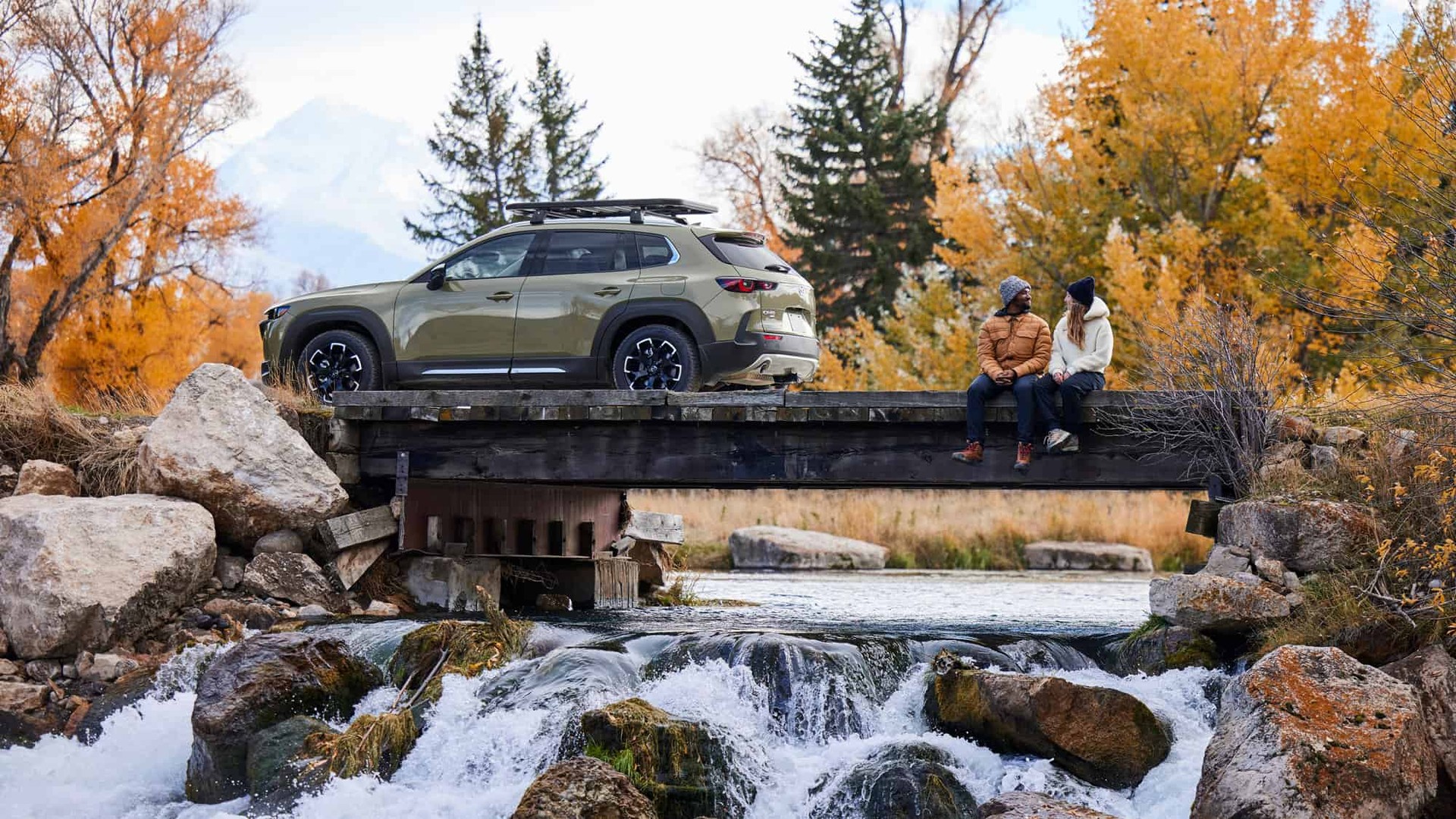 It's a symbiotic relationship between human and nature, the couple agree, and one that comes with plentiful benefits for all parties. "The outdoors has given me a purpose to live," Ryan admits. "Because I've had this relationship with nature and with the outdoors, I've become a better person and live a more positive, happy life." With the CX‑50's improved fuel economy and lowered carbon emissions, Ryan and Claire were able to drive further and explore more, helping them both solidify this unique connection while staying respectful of the world they love. "I try to practice being the best steward that I can for the outdoors," says Ryan, readying his backpack with supplies for tomorrow's adventures. "It's about doing what I can to preserve the space that I'm in."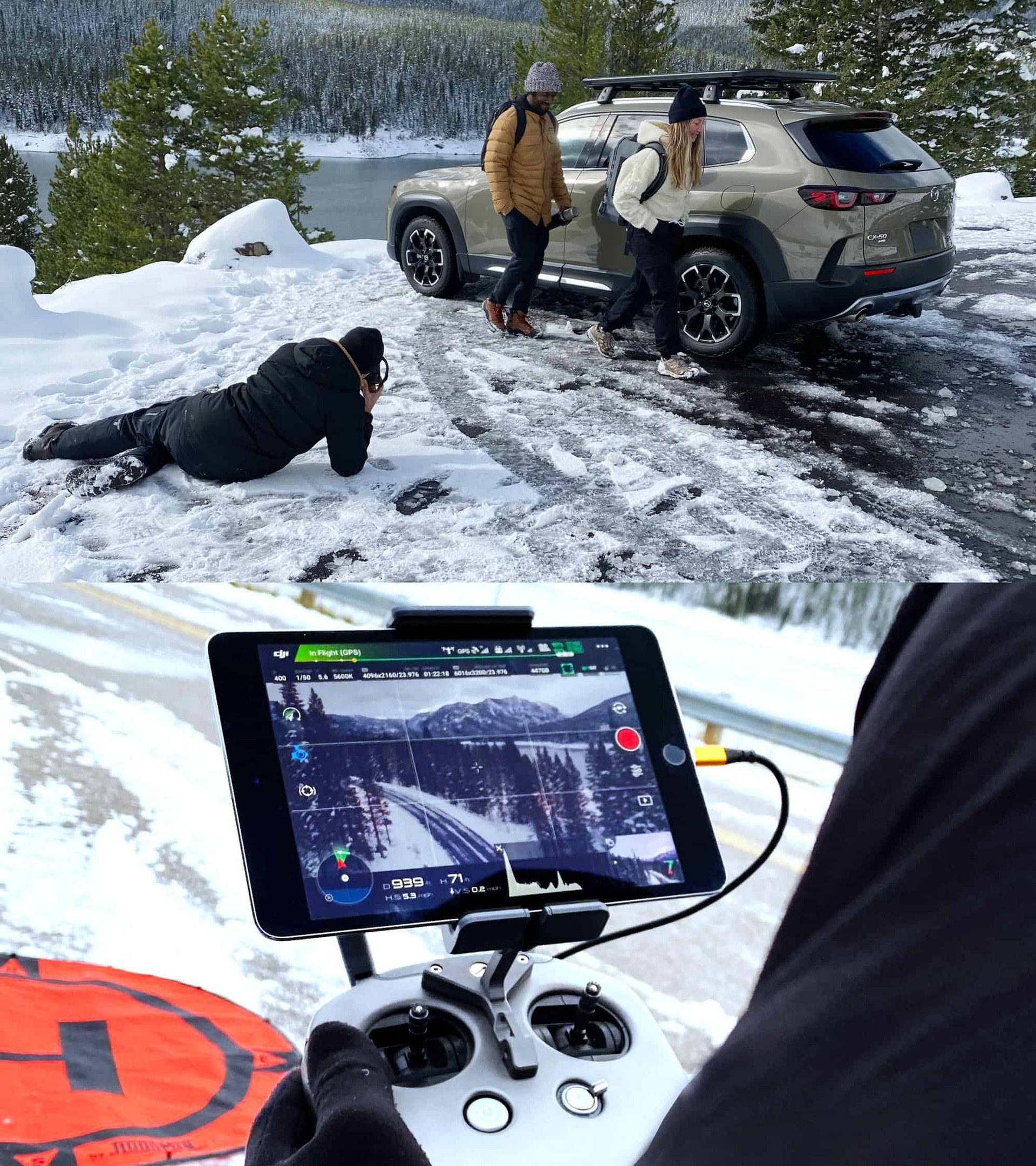 Mazda stories steps into the wilderness
It took months of planning. Some took the short flight from Los Angeles, others crossed the Atlantic while the hardier of the crew simply drove cross-country in camper vans until eventually, one fine cold afternoon at the end of 2022, the Mazda Stories team assembled to document this three-day motoring adventure in some of Big Sky Country's most scenic spots.
The snowcapped tips of the Sapphire mountains, the epic vistas of Gallatin Canyon and the rushing water of Yellowstone River all played host to our team of creatives, directors, and photographers and, of course, the versatile Mazda CX-50 in Zircon Sand, towing a stylish Escapod TOPO2 teardrop camper. As Ryan Hudson and his partner Claire Donskey discovered, deep-country America should be on everyone's "must-drive" list, come rain, shine, or snowstorms.
---
Words Ed Cooper / Images Anthony Dias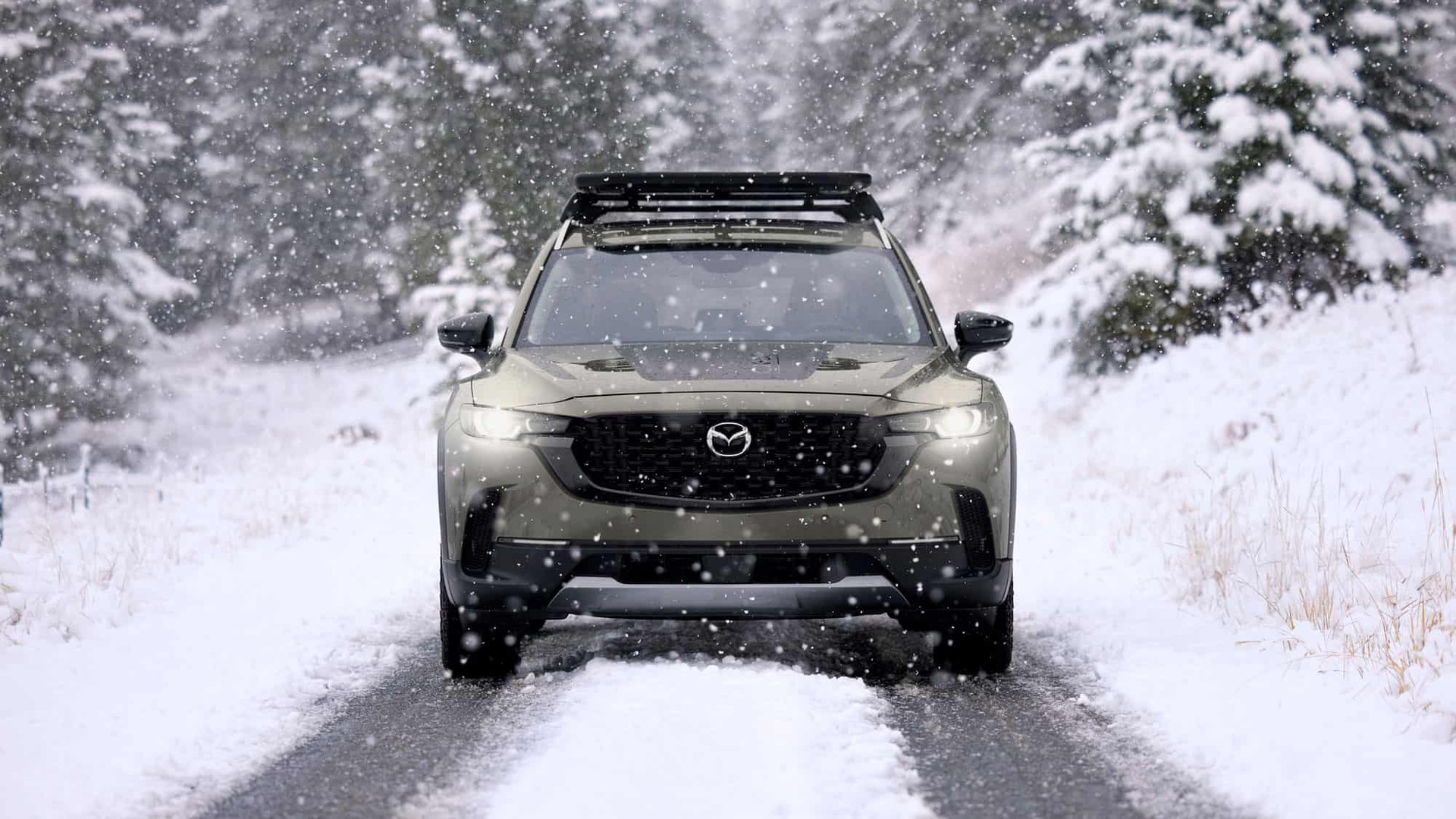 find out more
Drive on the wild side