"I'm 21 years old now and I've been racing for 14 years."
Tim Martens, Business Management student
We had a Zoom chat with student Tim Martens, MX-5 Cup Series racing driver and passionate fan of Mazda.
When did you work for Mazda?
I worked for Mazda Netherlands from September 2020 until January 2021 as an intern in the Finance department, where I got to shadow the Risk & Compliance Manager and the Business Controller. I had the best time during my internship—I really felt part of the Mazda brand because everyone was so welcoming. And I was allowed to drive all the Mazda models there, so I got to know the brand even better. I would love to return to Mazda someday to actually work there, so who knows!
How old were you when you learned to drive?
I was taking part in car races by the time I was 15 and started proper driving lessons when I was 16. Of course, I passed the driving test first time around!
Do you know your way around an engine?
I don't know everything, but I do have a fairly good understanding. With my dad and my best mate, we're always tinkering with my MX-5 Miatas.
What's your favorite route to drive?
I'd say the Nordschleife in Germany's Eifel Mountains, but I'm sure there are lots of other pretty routes for me to explore.
What's your favorite soundtrack for a road trip?
Sunset Lover by Petit Biscuit.
Tell us about your racing experience. How did you get into it?
I grew up in the city of Apeldoorn, in the east of the Netherlands. When I was about seven years old, I went karting for the first time in nearby Deventer. I loved it so much that I started taking karting lessons to learn the basic skills. I went two or three times a week. At first, we rented a kart but before too long I got my own. After about two years I outgrew it and graduated to the next step: karting championships. There often were technicians at the track; experienced drivers who were only too happy to teach me a thing or two.
So, really, you're a self-taught racing driver?
You have to soak it all up, listen carefully, ask for advice but then you're the one who has to put it into practice. You need to develop a feel for when to accelerate and when to hit the brakes.
Some people are good drivers but are no good at competitive racing. What makes a good competitive racing driver?
It's a question of experience. I'm 21 years old now and I've been racing for 14 years. I can't imagine life without racing—I grew up with it, it's part of who I am. I do it intuitively, based on experience. It's like everything in life: the more you do it, the better you get at it.
When did you first hear about the MX-5 Cup Series?
In 2014 a guy on my kart team told me he was racing in the Cup. My interest was immediately piqued and me, my dad and a technician helped this guy get better results, while he helped me get better at karting. In 2015 I first went with him to the Cup and that winter I decided to build my own Global MX-5 Cup race car. By the end of 2016 it was completed, and I drive it to this day.
What is it about MX-5 racing that appeals to you?
The car is just so brilliant to drive. It's a bit like a big kart: it has perfect 50/50 weight distribution, which means it's very well-balanced. The best thing about this racing class is that all cars have identical specs and the same opportunities, so we're all evenly matched; it really is all about what you bring as a driver.
You were saying that you and your friend from the kart team helped each other get better. Do you find that same camaraderie at the MX-5 Cup Series?
Absolutely. Meeting the same guys at every race, you forge bonds with them. We'll have a beer together after the race and when we're racing abroad, we often hire a place together and have meals together. We exchange parts and tools just as easily as tips or advice. During the race we battle each other as fiercely as anything, only stopping short at driving each other off the track. But when the race is done, we'll hug, high five and have a laugh together. It's really cool to race together in that way.
Are you part of a racing team?
You can't race without a team. As the driver, I'm often the focus, but I couldn't do this without the people around me: my dad, my technician, and the support. There's my mom, who brings bags of foods to every race and feeds virtually everyone on the track. Then there's my best friend, who has been coming along for a couple of years as well; he helps tweak the car. And these days, our girlfriends come along too—luckily, they're into racing. I do need them around and really couldn't do this without them.
What makes racing tough—the mental or the physical aspect?
It depends. The cockpit can be boiling, but it's predominantly a mental game. You really have to concentrate on when to brake, on how to drive your opponent crazy, on overtaking. And when you're in front, you need to stay calm and not keep checking your mirror but focus on your own abilities.
Why do you race?
I grew up with it. I can't live without that kick; I need the sensation of steering into a corner at 100 mph. And then there's the atmosphere, the fun, the whole experience.
You own two MX-5 Miatas don't you?
Yes, my racing car and a 1991 road version. They're both first-gen, which I just had to have. I was already racing in the MX-5 Cup, so when I turned 18 and could get my own car there was only ever one choice for me. I've never regretted it. It's just really well-built. The steering's super tight, you don't need a lot of power and, hugging the road, it feels like you're going really fast without having to speed. Anyone driving one of these cars knows exactly what I mean. It's not a drive, it's sheer delight. You feel at one with your car.
Are you a member of any MX-5 Miata clubs?
No, but I'm on various Facebook Groups and I know loads of drivers that I occasionally meet up with. It's a community in itself: with those pop-up headlights you wink at every other MX-5 Miata you meet on the road—the car connects people.
What other Mazda models do you like?
I would love to have an RX-7 because of its beautiful, timeless looks and its famous engineering, which saw Mazda through. And it plays a part in the film The Fast and the Furious.
Describe Mazda in three words
Passion. Willful. Emotion.
---
Interview by Chantal van Wees / Zoom photo by Fran Monks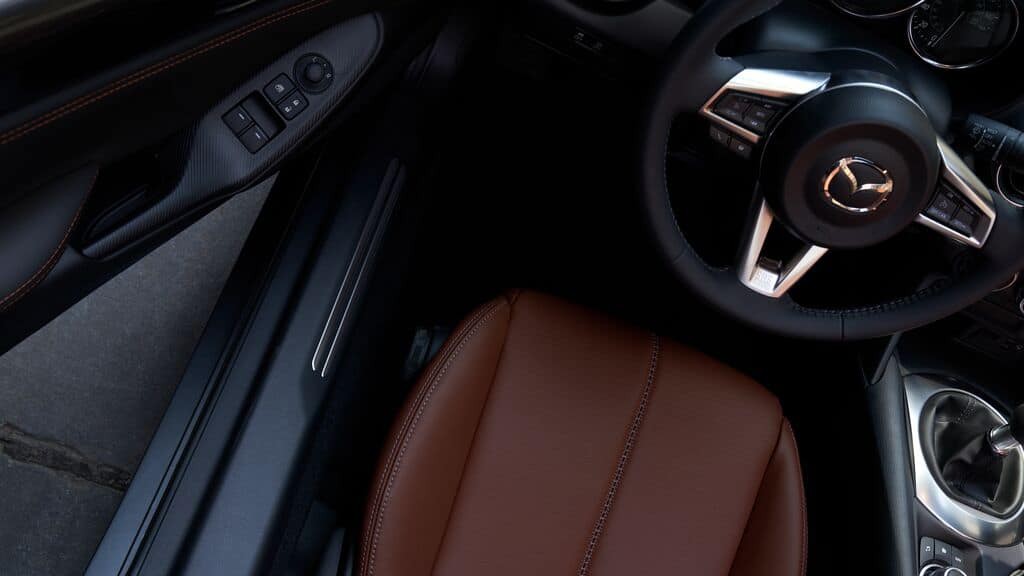 find out more
Mazda MX-5
For sheer driving pleasure