"My son loves driving in the MX‑5 MIATA. He calls it my race car."
Nick Beard, Digital Marketing Manager, Mazda North American Operations
Nick Beard has worked at Mazda for 14 years. In our Zoom chat he tells us about his love of being outdoors, cycling, family, and driving a couple of hours to get some nachos.
Do you have a favorite Mazda?
The MX‑5 Miata. When I was growing up, my dad had a Jeep and I always loved him driving with the top down—I remember how my scalp tingled. When driving a MX‑5 Miata, I have a very similar experience, and it's also the car I learned to drive in.
What's your favorite drive?
There's a road by my house called Live Oak Road, which links with another road called Santiago Canyon Road. We do that drive about once a month.
What's your ideal road trip soundtrack?
I listen to a lot of different types of music but it's probably going to be some sort of country music: Garth Brooks, Luke Bryan, Zac Brown Band…
What would your superpower be?
A super-high metabolism—I love my food!
You grew up in Orange County, California. Did you take advantage of the amazing nature on your doorstep?
As a family, we'd go camping, and I learned a lot about "leave no trace." My father belonged to the Jeep club and a big part of its mantra was to make sure that the members were taking care of the land that they were out enjoying.
I hear you're a keen cyclist?
Growing up, I was always outside riding my bike. I'd meet up with my friends and we would go ride around the city or build dirt jumps. iPads weren't around back then but we certainly didn't sit inside and watch TV.
Do you encourage your son to play outdoors too?
Absolutely. My son, Camden, doesn't play video games. He would much rather prefer to be outside playing with his friends. He enjoys riding his bike on the street and we do occasionally go for rides together. My family is pretty big on getting out and exploring. We actually named my son Camden because it means "from the winding valley."
How did you end up working for Mazda?
Both my mom and my stepdad used to work for Mazda, so I was lucky to see the cars before they were available to the public. I loved that. I knew I always wanted to work for Mazda, not because my parents worked there, but because I really enjoyed the cars and what the company stands for.
What was your first job at Mazda?
I was in the Customer Experience Center, so I was taking phone calls on the hotline. Now I'm responsible for developing and implementing marketing strategy at the dealer level. This means helping dealers with their digital marketing—for example, their SEM (search engine marketing) or SEO (search engine optimization), their social media marketing, and website — and generally helping them with their marketing efforts.
What words would you use to describe Mazda?
Never-ending passion.
Has Camden shown any interest in Mazdas?
He loves driving in the MX‑5 Miata. He calls it my race car. On Friday mornings, we have dad and doughnut morning, so I usually take him out in the car and we'll go get doughnuts before I take him to school. He loves the MX‑30 too. When I brought it home to test it, he fell in love with it. I think it's the way the back seat is designed—it's a bit more cozy than the CX‑9, which I was driving before. And then he has that little porthole window right by his head so he can look out.
What do you get up to on weekends?
I'll do a two- to three-hour ride Saturday morning and then, for the last five months, it's been baseball season for Camden. Then we'll go out to dinner—and usually drive somewhere to a restaurant. My wife and I really appreciate good food, so we're not afraid to drive 45 minutes to an hour to go to a place that we know is good or that we haven't been to in a while.
Are there particular types of cuisine that you seek out?
Our favorite is Mexican. My friends make fun of us because, before we had Camden, we'd drive two hours to Santa Barbara for nachos and burritos from a place called Freebirds. But we also love Italian, Mediterranean… I'm starting to get my wife into Thai food, too. Or we'll just go for a hamburger and a walk on the beach.
Do you like cooking at home?
My wife and I both enjoy cooking. I'm more into barbecuing and smoking meat, and my wife cooks pretty much everything else. She's a fantastic chef. There's no shortage of good food.
What do you cook when you go camping?
We went camping last weekend and grilled filet mignon.
I was expecting you to say you heated up a can of beans!
We did filet mignon, which I cooked on a charcoal barbecue with some wood chips to give them a smoky flavor, and then we roasted broccoli and made mashed potatoes.
Wow.
The night before that, we made grilled chicken caesar salad.
Your family trips sound wonderful. What's next in the calendar?
My wife and I are going to celebrate our ten-year wedding anniversary in July in Nashville. It's going to be a lot of fun.
Especially if you're into country music.
Exactly! We can't wait.
---
Interview by Helene Dancer / Zoom photo by Fran Monks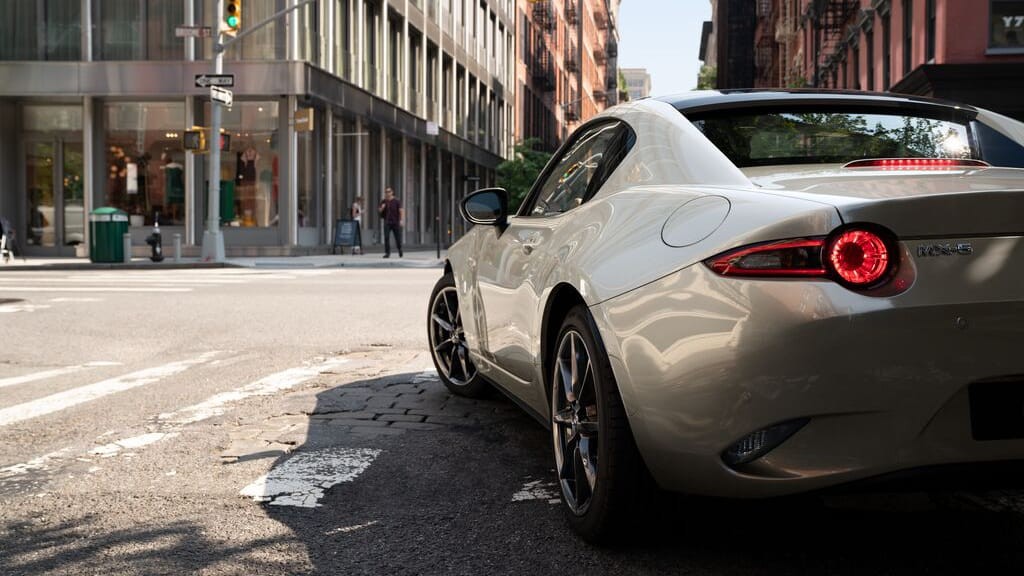 find out more
Mazda MX-5
Feel your scalp tingle