Mazda's new drive-mode technology is designed to take you any place you want to go.
If the past few years have taught us anything, it is that our freedom should not be taken for granted. Mazda vehicles are designed to facilitate your freedom, and the manufacturer's new Mazda Intelligent Drive Select technology, Mi‑Drive, takes this to the next level. That's because it allows you to change your vehicle's drive mode at the toggle of a switch, to suit the surface the car is on. So whether you're driving off-road, towing a trailer, or simply want to enhance your car's dynamics on a beautiful driving road, Mi‑Drive helps ensure your Mazda performs at its best.
Normal Mode
Designed for use on a variety of roads and conditions including on wet and snow-covered surfaces, Normal Mode provides a fantastic everyday driving experience, with an emphasis on balancing fuel economy and performance. It is a versatile mode that brings the best out of your Mazda both around town and on long journeys, providing comfort and practicality for driver and passengers.
Sport Mode
Mazda builds cars that enhance the driving experience, and Sport Mode represents a physical manifestation of the carmaker's driving philosophy in action. Select this mode on a winding mountain or canyon road and your car's engine and transmission characteristics adjust to increase responsiveness, while acceleration becomes more aggressive. A unique transmission schedule enhances throttle response when you need it, such as merging onto a freeway or passing other vehicles, giving you greater confidence.
Off-road Mode
Off‑Road Mode allows you greater freedom than ever to explore the great outdoors. When activated, a suite of technologies are engaged, so that whether you're driving on challenging surfaces such as mud, sand, or uneven terrain, the car maintains stability as well as Mazda's trademark driving qualities. Mazda's unique G Vectoring Control Plus (GVC Plus) is customized to provide grip on loose surfaces, while a combination of torque, transmission and engine profiles work in the background to provide peerless off-road capability. Off Road mode even assists standing starts on steep hills through a combination of engaging brakes, i‑Activ All‑Wheel Drive and the torque converter. So regardless of surface or gradient, you can confidently enjoy outdoor pursuits.
Towing Mode
Whether you're pulling a trailer or a boat out of the water, towing a large weight heavily compromises a car's driving characteristics. Mi‑Drive's Towing Mode (3,500 lb capacity) is designed to severely reduce this impact, and deliver a near-normal driving experience on a variety of different surfaces. Tuning of the i‑Activ all-wheel-drive system increases torque to the rear, offering enhanced stability on both freeways and unpaved roads, while GVC Plus is tailored to increase traction across uneven ground. The car's gearbox enters an optimized mode to maintain the right RPM and torque levels for easy towing. Towing Mode is currently available on the Mazda CX‑50 2.5 Turbo models.
---
Words Tommy Melville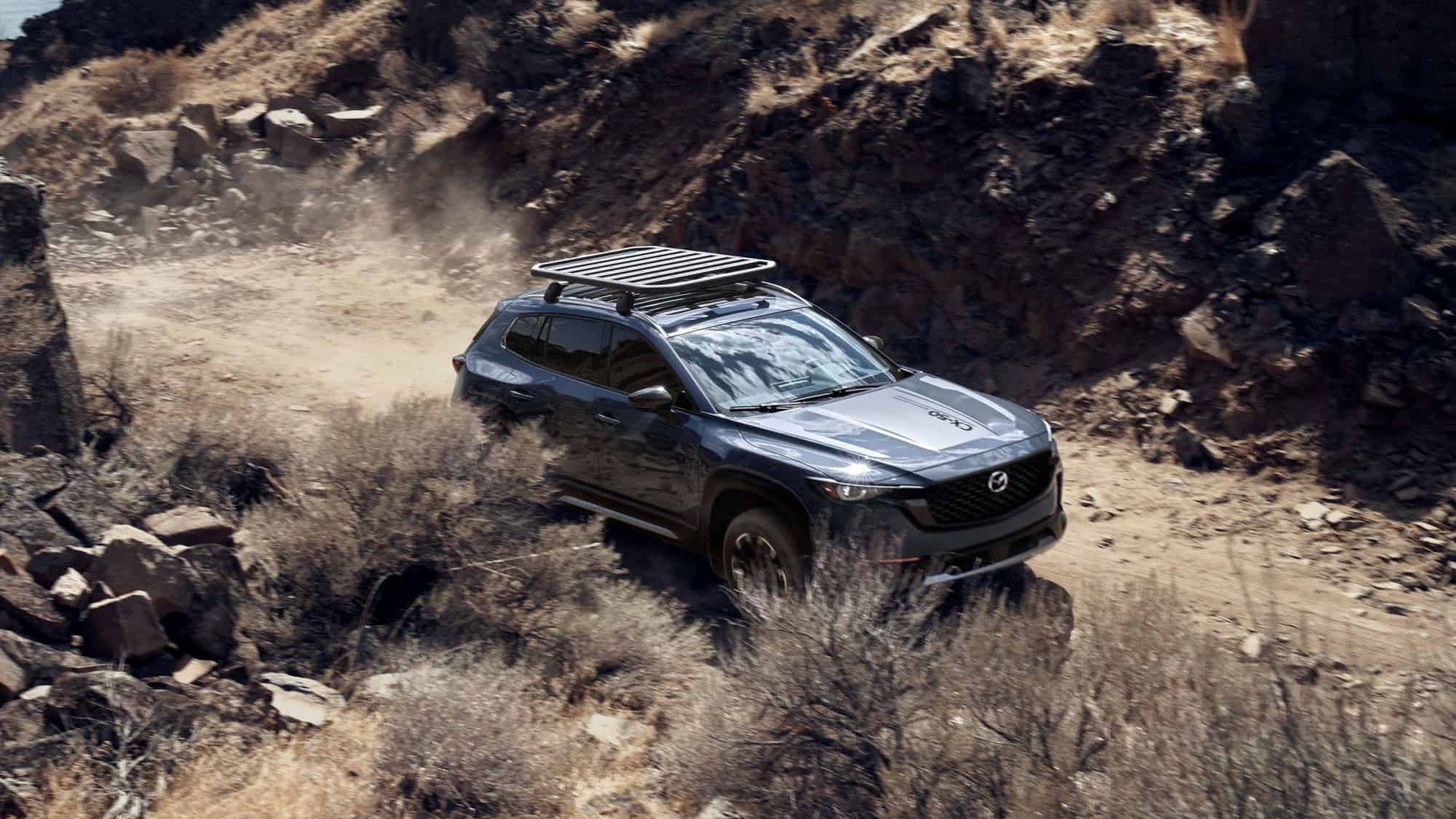 find out more
An instigator of curiosity
Designed to create seamless experiences in nature by enabling greater access to your favorite passions