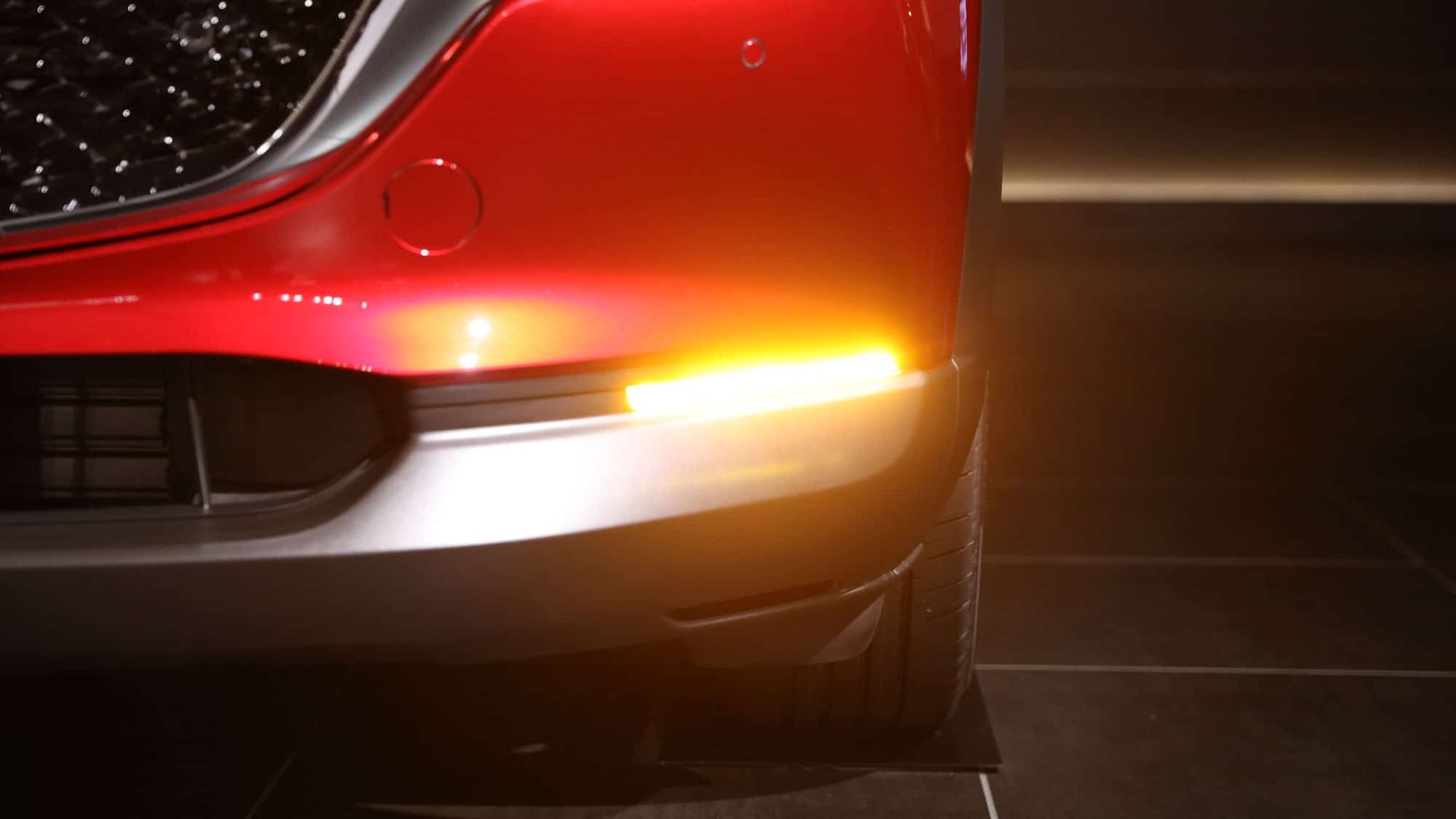 Design Without Compromise: Signals from the Heart
Dimming Turn Signals (DTS) are a Mazda innovation that replicate the human heartbeat. Mazda Stories spoke to Mazda Designer and Lamp Development Leader Atsushi Yoshida to find out more.
Why did Mazda create a new turn signal?
We place great value on our human-centric designs and how people relate to the various aspects of our cars. A turn signal lamp must effectively communicate a driver's intention and catch the attention of pedestrians and other drivers. I hoped that the feeling of a human heart—echoed in how the turn signal lamp instantly appears and then gradually dims—could reduce driver tension and create feelings of calmness and safety for the viewer. Overall, it took my team and me two years to create this feature.
How did you recreate the human heartbeat in the DTS?
Conventional LED lamps create strong digital images by turning on and off instantly, but this can result in a cold feeling. I focused on how a driver's intention emanates from their heart, extending to their heartbeat and pulse. Using an electrocardiogram, I watched heartbeat waveforms undulate, linger and diminish, resulting in a turn signal that expresses the warmth lacking in LED lamps.
"I wanted to infuse a sense of life into the turn signal lamp—a feeling that would manifest the concept of Car as Art."
What was one of your most difficult challenges?
This had never been done before and it took two years from concept to production. A big setback came when its first scheduled installation into the Mazda3 was canceled because the light dimmed inconsistently. However, working with Mazda engineers and our supplier, Stanley Electric Co., Ltd., we repeatedly readjusted the signal light in 0.01 second increments, solved the problem and installed it successfully into the Mazda CX‑30. We achieved what was initially thought to be impossible.
What do you want Mazda owners to experience with DTS?
I hope that DTS shows the level of attention and intentionality that goes into every Mazda car. This concept was born from the spirit of "breathing life into cars," as well as a refusal to compromise Mazda's design philosophy.
How can we experience the "breath of life" in a car?
Touching the various elements of a well-designed car—its shape, surface quality and light—allows you to experience the hands of its creators.
"I wanted to embody Jinba Ittai—the intuitive connection between car and driver—so that even the act of making one turn of the wheel is a human-centric experience."
What Japanese design qualities influence your work?
Focus and determination, an obsession with honing and refining, and a sensitivity of touch—these are qualities that have been embodied in Japanese crafts for centuries. They are very real to me and I feel them even in the simple act of washing and wiping down a beautifully crafted car.
What are your thoughts for the future?
I want to help increase Mazda design value through lighting. Although competition is intensifying with electric cars and autonomous driving, I want to see outstanding car design continue without compromise.
---
Words Steve Beimel
With some exceptions, DTS is generally available internationally in the CX‑30 and MX‑30 models, with plans in place for expansion to other models.
find out more
Light up your world
Discover the Mazda CX-30 and Mazda MX-30