"Motorsports as a culture should work to mobiliZe society as a whole."
Ikuo Maeda, Senior Fellow Brand Design
Ahead of the Fuji 24-hour endurance race (round 2 of the ENEOS Super Taikyu Series Powered by Hankook) Kenji Momota meets Ikuo Maeda and discusses his passion for motorsport and music, as well as his ambition for Japan to become a global leader in design.
We're about to start the preliminary race of the Fuji 24-hour endurance series. How are you feeling?
I'm quite nervous, as the head of the team and as a driver. The race is long so there's no knowing what will happen. But I'm also excited. I guess I'm half-nervous, half-excited.
I heard from a diesel-engine engineer that he was surprised at suddenly hearing about Mazda Spirit Racing from his boss at the end of last October.
Yes, it would have been a surprise to the engineers, especially as we were all of a sudden entering a top-level Japan domestic racing series. However, I've been preparing for this since 2019. I really wanted to build a team that could take part in the Super Taikyu Series, and in my personal time I'd started participating as a driver. That's how I picked up my racing skills and learned how to run a team.
So you feel fully prepared?
I'd started designing the Mazda Spirit Racing logo two years ago and was mapping out brand-building schemes. But then something unexpected happened.
You mean the changes in lifestyle due to carbon-neutrality and COVID-19?
Yes. Car manufacturers are now participating in the ST-Q class, created to test out next-generation vehicles towards a carbon-neutral future. Against that backdrop, I feel that motorsport in general must evolve too.
Do you envisage this change being led by engineering?
No, it's more that the car makers are part of "Team Japan," united in the belief that motorsports as a culture should work to mobilize society as a whole. That's why our relationships with other manufacturers are a lot tighter than before. Things we can do as a team we do together, while we also look to maximize our own unique strengths. I feel that this kind of new relationship is emerging, which is something I had never imagined.
Originally, motorsports represented the pinnacle of car making. At the same time, critics said it was too indulgent and bad for the environment. People have long called for motorsports to exist more harmoniously in a new society. Is this now starting to happen?
I believe the representation still has not changed. This new initiative has kick-started a proving ground of new technologies, in order for motorsports to coexist with a new society.
When did you first get involved in motorsports?
In my second year at university I participated in a regional rally. I drove a first-generation RX‑7 at the time. I joined Mazda in 1982 and was first involved in product planning. After that I worked at the design studio in the US, where I participated in the fast-speed gymkhana SCCA Solo2 with the Familia 4WD. Once relocated back to Japan, I drove the first-generation MX‑5 Miata (NA) in gymkhana trials and started to get into racing. 
So you are passionate about motorsports?
Yes, of course. I've always been involved in motorsports. I have raced in many categories, took part in the Roadster (note: MX‑5 Miata in the US) Party Race about 10 years ago, and am now racing in the Super Taikyu series. I like the unique, tense atmosphere. There is so much about driving technique, there is no end to what you can learn. I think that's what drives me. While working hard I also made a lot of new friends.
Have you faced any disappointments as a driver?
Yes, when I lose a race. During the Roadster (note: MX‑5 Miata in the US) Party Race a few years back, I qualified in pole position and led the race only to make a gear change error towards the end and finish third. There have been many frustrating moments—you get disappointed, but it's always a battle with yourself.
Moving on from motorsports, what is your favorite Mazda car?
I have to say my favorites are the ones that were a challenge in designing: ND Roadster (note: MX‑5 Miata in the US), Mazda3 Hatchback, and Mazda6. As for older ones, I like the third-generation RX‑7 (FD) and Luce Rotary Coupe.
What kind of music do you listen to while you're driving?
I love jazz piano, like Bill Evans and Makoto Ozone. I like music with soul.
Does it tie-in with Kodo?
Yes, I think so. I feel the soul in the music.
Your sensibilities translate into Mazda design. How would you describe Mazda in three key words or phrases?
Beautiful. A love of cars. Earnest.
I see that everyone at Mazda approaches everything very earnestly. Why is that?
We don't like compromises. For better or worse, we are a group of people always pursing the ideal. In terms of design, we pursue our ideal form of beauty rather than following the trend. Maybe it's because the spirit of Hiroshima displays a strong sense of might and determination. 
Finally, what are your ambitions?
First, I want to carry on with Mazda Spirit Racing activities long into the future. I want people to be happy being part of Mazda Spirit Racing with grassroots racing at the core. A brand becomes a brand only when society values it. That's my current goal. On top, I want to expand our brand values and connect with more people by widening our scope into products utilizing our design capabilities. As a result, we create a "car culture" with motorsports at the core. That is my dream, my ambition.
---
Interview by Kenji Momota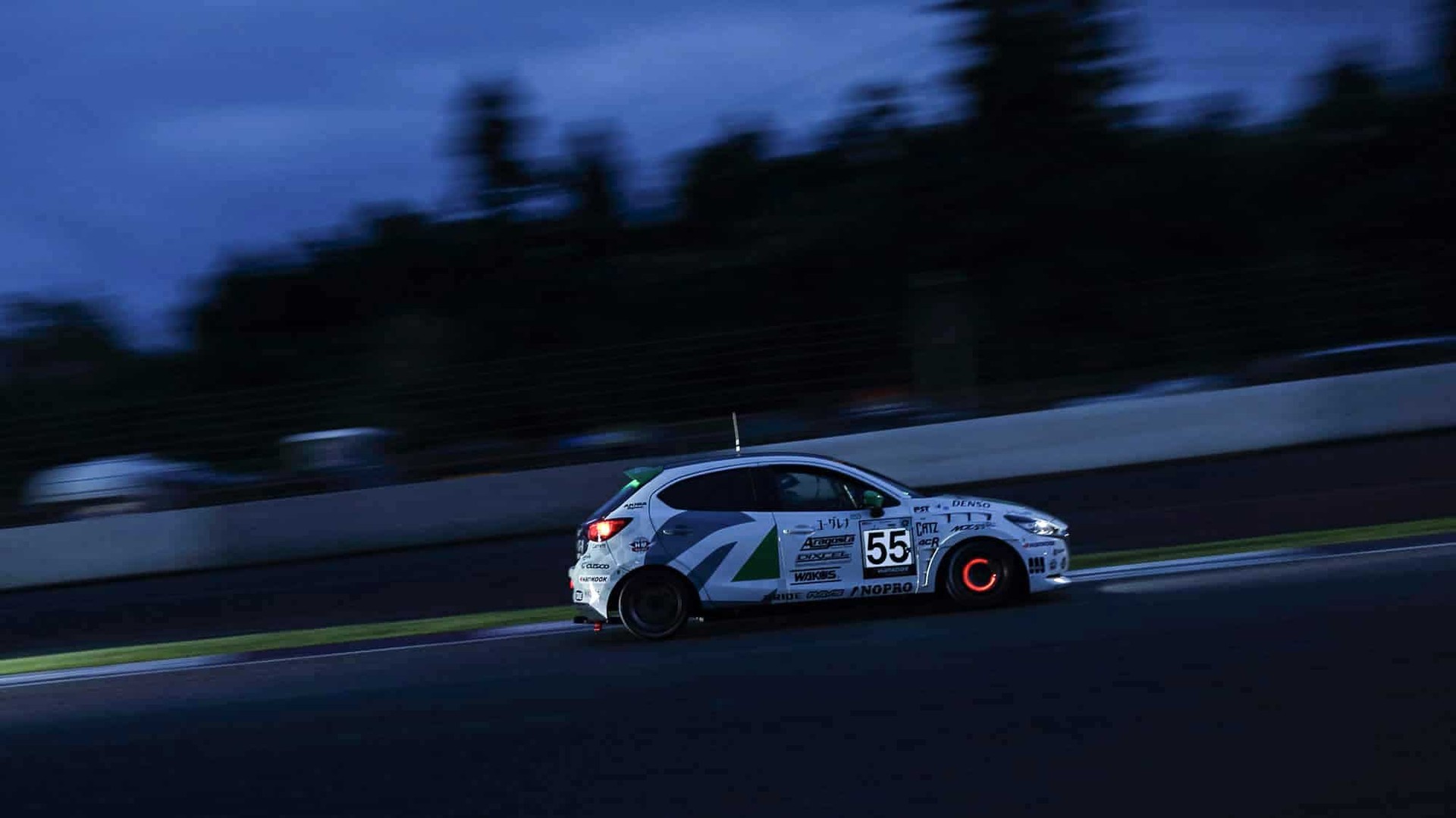 find out more
World-changing technology and design
Mazda is driving towards a greener future